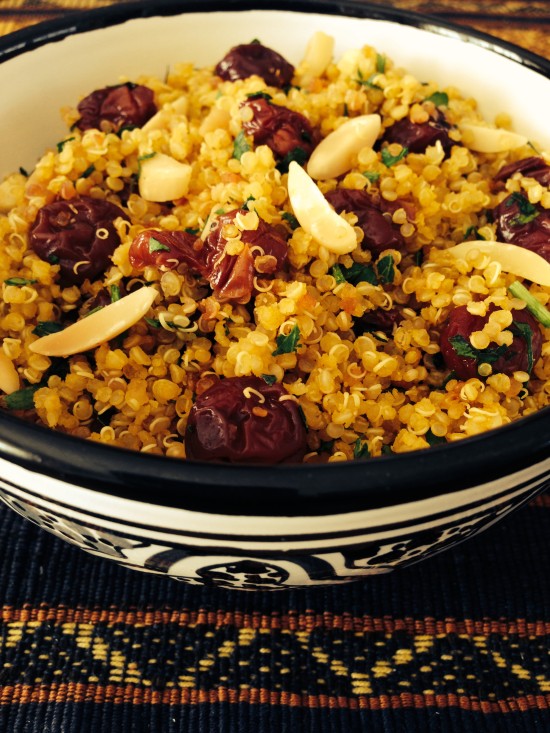 Almond Cherry Quinoa
Festive Almond Cherry Quinoa
Quinoa is the Incas' "mother of all grains." It is a delicious super 'grain' that provides plenty of essential nutrients and vegetable-derived complete proteins. As such, it is perfect for vegetarians and vegans who are always on the look out for sources of such protein. It is also gluten free. For observers of Kosher Passover dietary rules, this 'grain' was recently added to the Passover pantry after the Orthodox Union certified it kosher for Passover in December 2013. Cook a large pot and substitute quinoa for any of your favorite rice or grain dish.
Ingredients
2 cups kosher for Passover quinoa
2 tablespoons olive oil
2 cups vegetable or chicken stock
2 cups water
1 teaspoon salt
1 cup dried cherries
½ cup Kirschwasser or dry sherry
1 cup slivered almonds, toasted in 350-degree oven for 6-8 minutes or until golden
¾ cup fresh parsley, chopped
Freshly ground black pepper to taste
Dressing
1 tablespoon olive oil
1 teaspoon lemon juice
½ teaspoon honey or agave nectar
Instructions
If the quinoa is not pre-rinsed, place it in a fine-mesh sieve and lower the sieve into a bowl with water. With your palms or fingers rub the seeds in the water for about 30 seconds and then rinse. Heat olive oil in a large pot and sauté the quinoa for about 5 minutes, to dry. Add stock and water, bring to a boil, cover and simmer for about 15 minutes until water is absorbed. Let rest for 5 minutes uncovered and fluff with a fork.
While the quinoa is cooking, place the cherries and Kirschwasser in a sauté pan, bring to a gentle boil and simmer for 5 minutes. Mix all dressing ingredients together in a small bowl. Fluff the quinoa with a fork and stir in the cherries, parsley and dressing. You may prepare this recipe a day ahead, refrigerate and warm the quinoa before the meal. Just before serving sprinkle the almonds on top and add freshly ground black pepper and salt to taste.