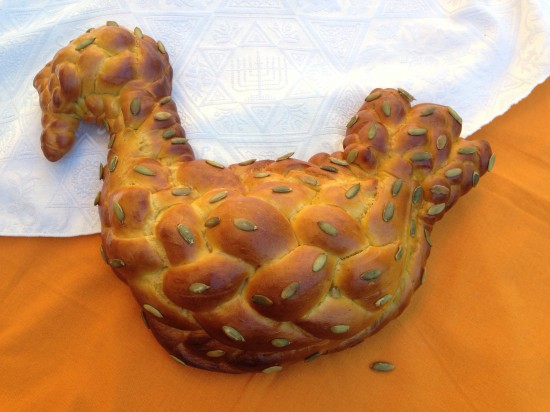 Turkallah, Turkey-Shaped Pumpkin Hallah
I created this braided bread recipe in 2013, the year of the rare convergence of Hanukkah and Thanksgiving. My pairing of pumpkin and hallah is a twist on the Sephardic Jewish traditional pumpkin hallah, pan de calabaza.  Many traditional bakers use pumpkin puree or potato water in their hallah dough.  It produces soft, fluffy bread.  My pumpkin bread, unlike pan de calabaza, uses sweet-spiced pumpkin butter. I added the cranberries for the flavor and visual effect and to make it more like Thanksgiving. A spur-of-the-moment inspiration, this DIY braiding project was so much fun that the next morning I found myself smiling every time I thought about it.  I could not believe how easily it all came together. You can use dough made from scratch or our Voilà! Hallah Traditional Egg Bread Mix. I wish for all of us to give thanks, count our blessings and have a delicious feast with loved ones.
Check out our Store Locator for a store near you. Or buy on our website or amazon.Here are more holiday or seasonal recipes on our blog: Sweet Cranberry Hallah, Cranberry Pumpkin Cheese Coffee Cake, Pumpkin Egg Bread.
Turkey-Shaped Pumpkin Egg Bread
I baked this turkey-shaped hallah from two Voilà! Hallah Traditional mixes .  To prepare the pumpkin hallah dough from scratch, double this recipe.

Dough:
2 Boxes of Traditional Voilà! Hallah,
2 packets yeast, included
1 cup minus 2 Tbsp. warm water, 110°-115°F
2 large eggs, room temperature
4 Tbsp. vegetable oil
6 Tbsp. home made Pumpkin Butter
Pumpkin Butter:
15 oz. pumpkin puree, canned or fresh
¼ cup maple syrup
½ cup brown sugar
½ tsp. ground cinnamon
¼ tsp. ground ginger
⅛ tsp. ground cloves
2 x  2-finger pinch salt
2 Tbsp. apple cider vinegar
2 Tbsp. triple sec, optional
2 tsp. vanilla extract
Mix all the ingredients in a small saucepan, bring to a gentle boil and simmer on low for 20 minutes, till thicken.  Make sure to mix butter intermitently while cooking to avoid scorching.  Let cool.
Egg wash:
1 large egg
1 Tbsp. sugar or maple syrup
Pumpkin seeds, shelled
Instructions:
1.  Read instructions and prepare ingredients before starting.
2.  Pour the baking mix into a bowl of a stand mixer.  With a spoon, create a well in the middle.  Pour the yeast into the well and pour the water on top.  Let stand for 5 minutes to activate.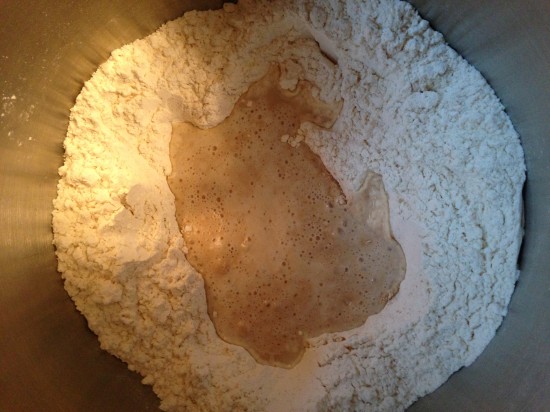 3.  Add eggs, oil and pumpkin butter.  Mix with the hook attachment for 10 minutes on low.                             Scrape sides of bowl and hook as necessary.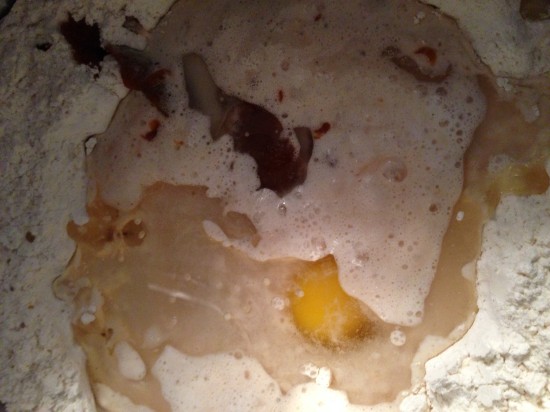 4.  Scrape dough from the bowl and shape dough into a smooth ball and place in an oiled bowl  smooth side down to coat and turn.  Cover and let rest for 10 minutes.  Meanwhile, oil your board, or lightly dust it with flour, and line a large baking sheet with parchment paper.
5.  Body: Divide dough into two equal balls (A & B).  Set ball B aside.  Divide ball A into 6 equal parts and braid into hallah.  Place each of your palms on each end of the braided hallah and roll back and forth in an outward motion, with a bit of pressure, to taper the ends. Place on a parchment-lined baking sheet.  Arrange in a U shape with edges pointing upward.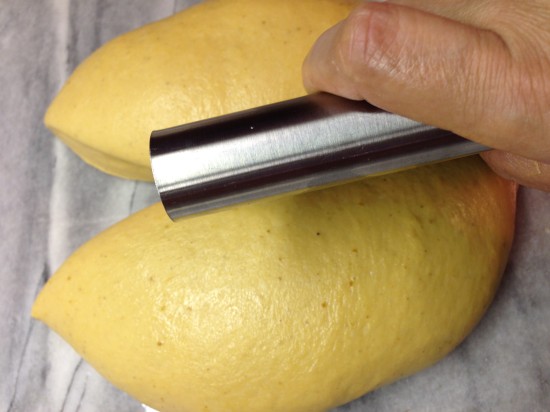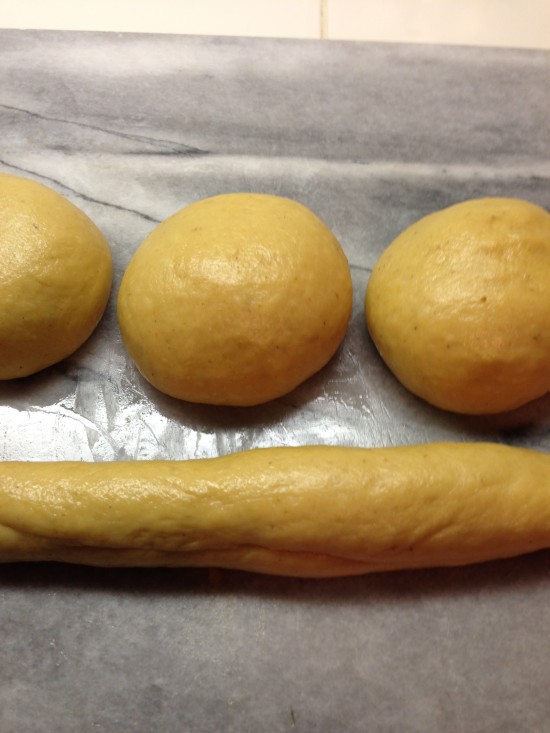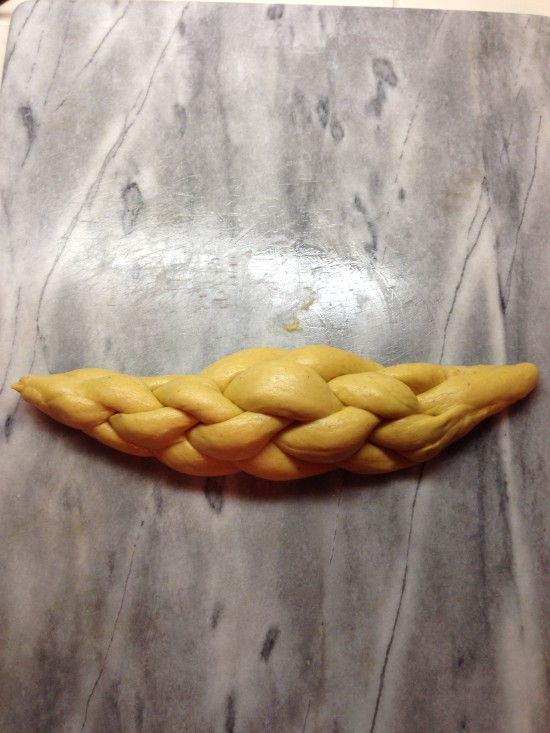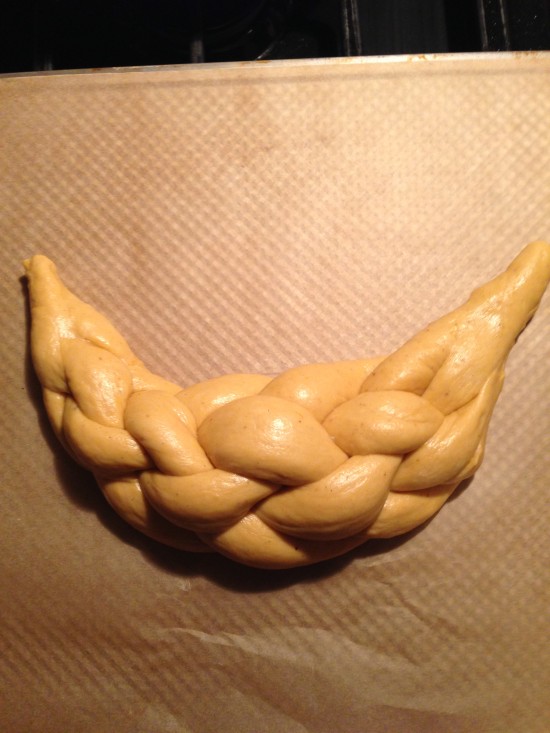 6.  Belly and Back: Divide ball B into three balls (B1, B2, B3). Set balls B2 and B3 aside.  Divide B1 into three balls, roll each ball into a strand, approximately 12 inches long, and braid into a three-strand, even-width rope.  Cut a two-third section and place it below and along the bottom of the six-strand braid body, lifting the body's outline (belly) to overlap on top of this section's outline.  Place the leftover one-third section above and along the top outline (back) of the body, tucking its outline underneath the body's outline.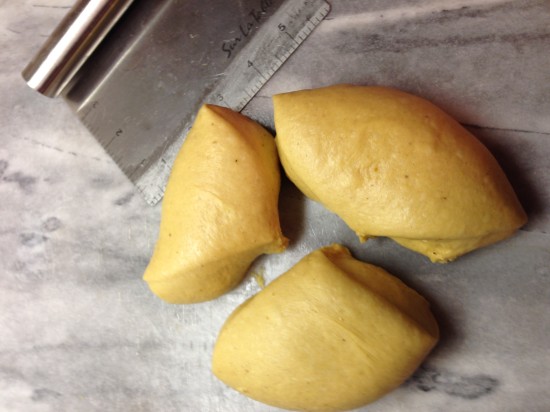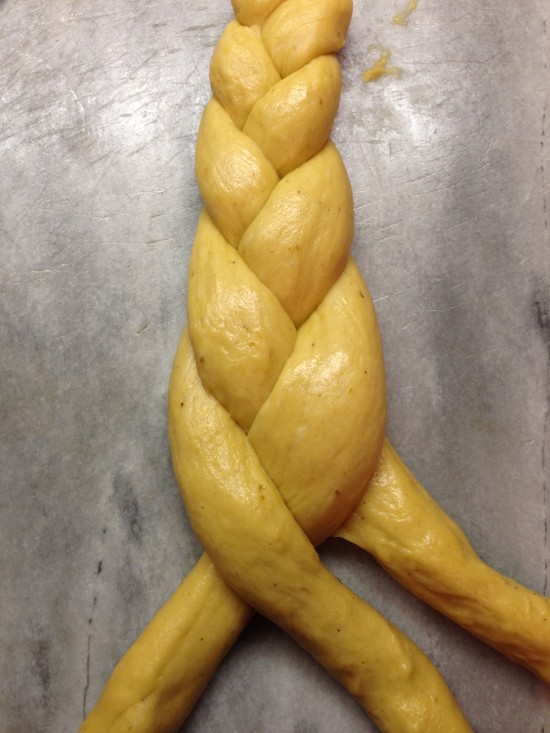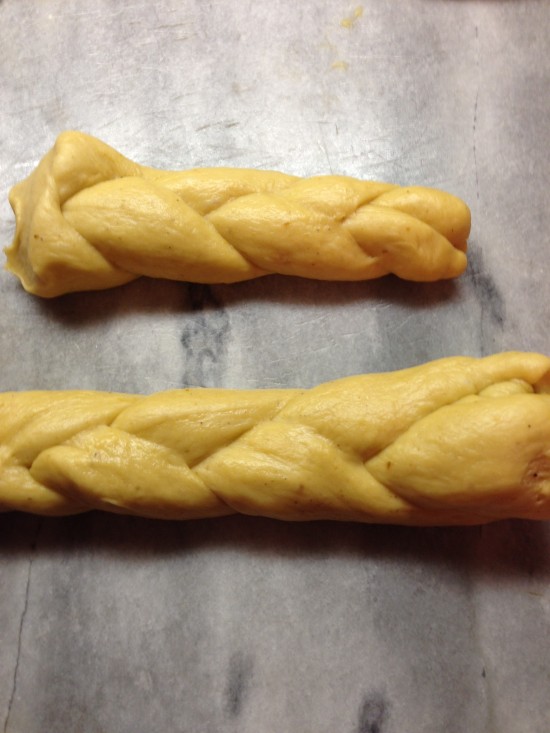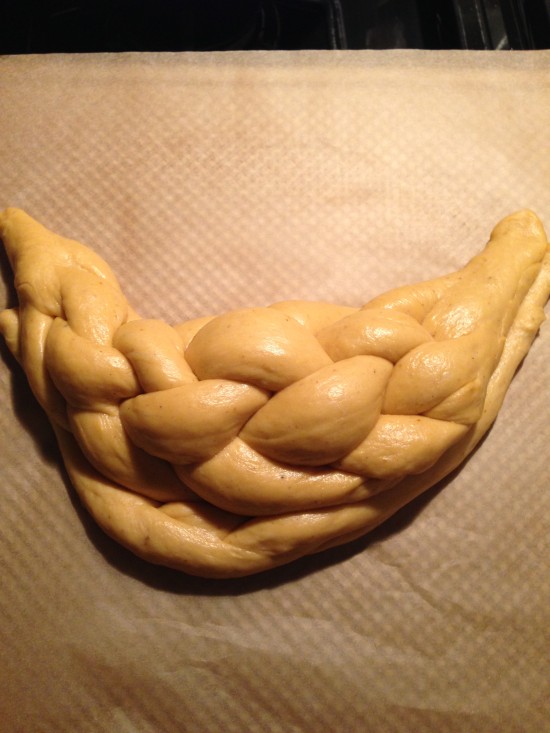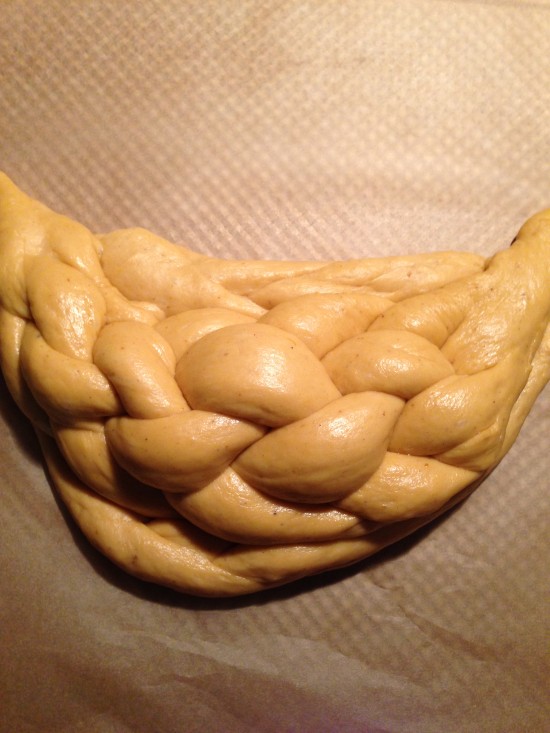 7.  Tail: Divide ball B2 into 2 equal parts (C & D).  Divide part C into three balls, roll into strands, about 10 inches long, braid an even rope and cut into three even sections.  Attach in a fan-like shape at the end of the tail on the right of the bird's body.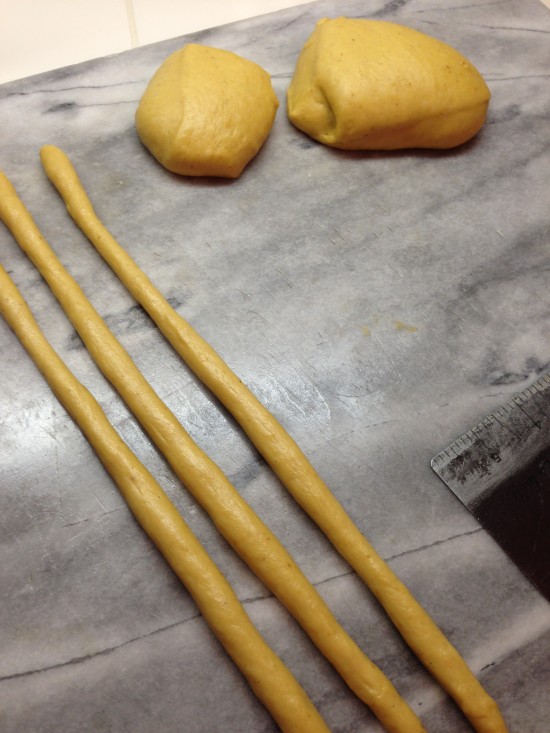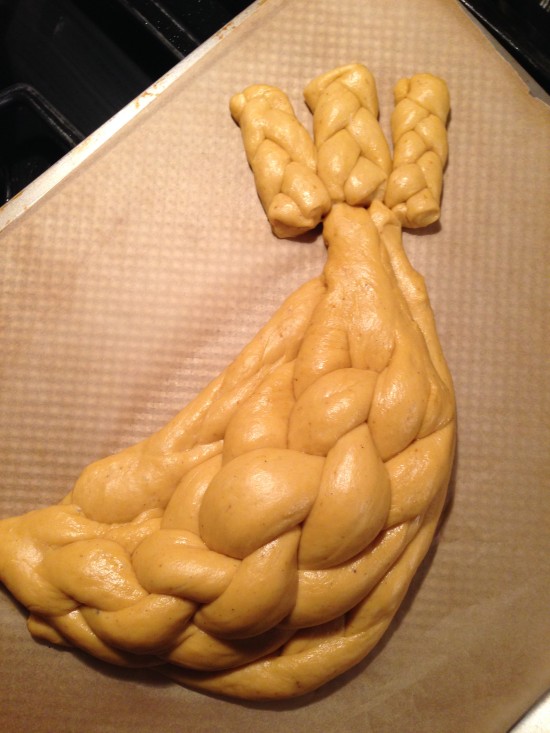 8.  Divide ball D into three equal parts (D1, D2 & D3).  From each part, create a three-strand braid.  Use one section to run from the right side of the bottom (belly) to the tail (to thicken tail part), second section along top right (back) to the tail base.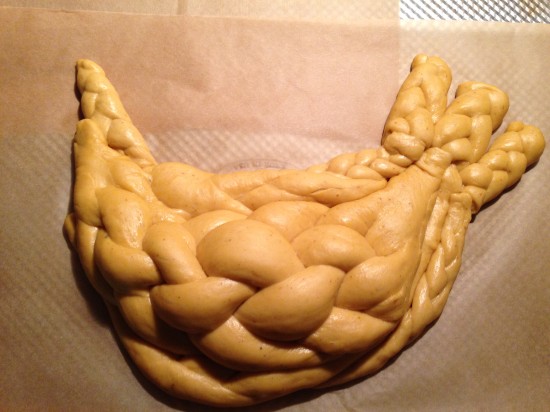 9.  Head and Neck:  Divide B3 into two equal parts (E & F).  Braid a three-strand rope from part E.  Roll to taper ends.  Add to front neck to shape the head and beak.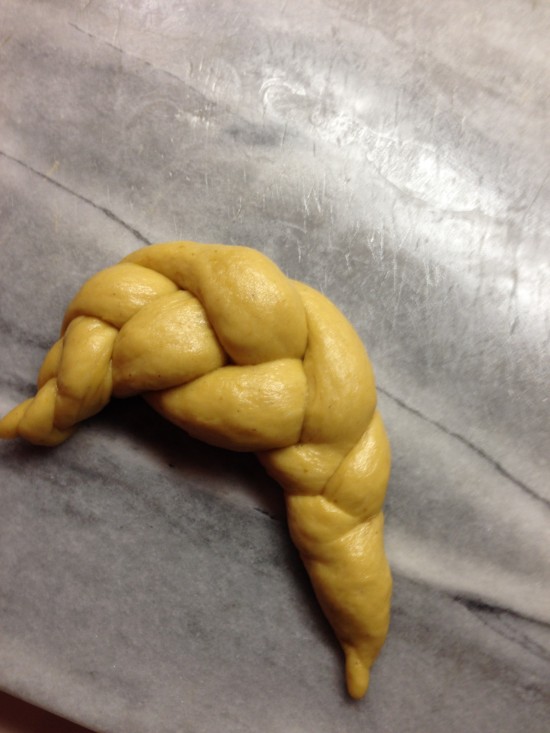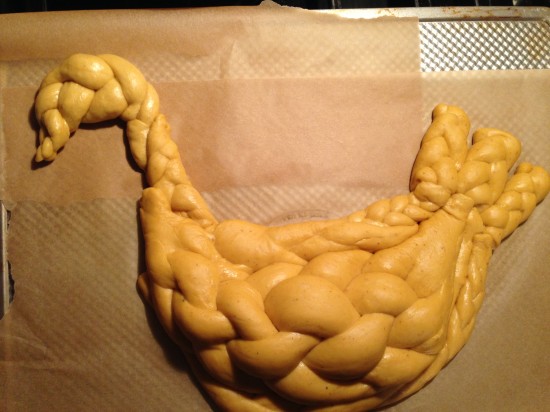 Divide F into three parts and form a three-strand braid from each part.  Use these braids to enhance and thicken the shape of the head and neck. Place one rope to thicken the left side of the neck and stretch toward the head and lower beak.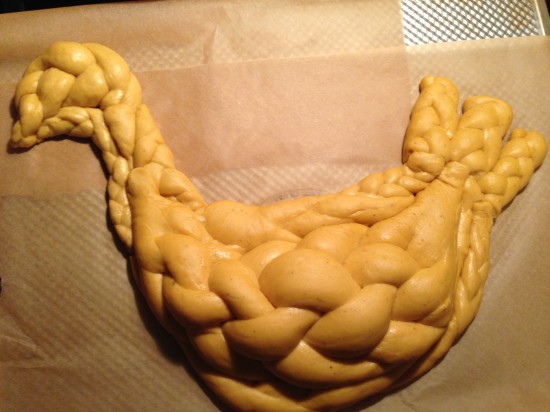 Place the second rope from the top of the head to the top of the beak, tucking under the outline that's already there.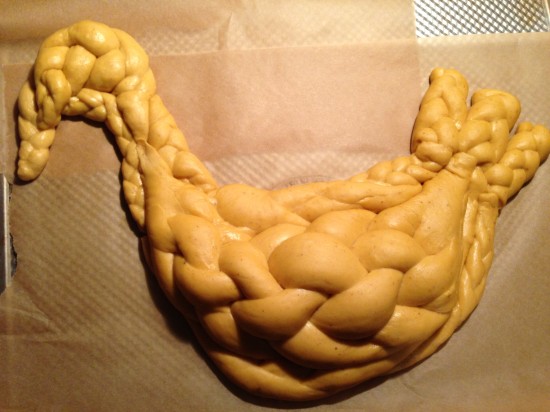 Bring the last rope from the back of the head to the front under the top of the beak.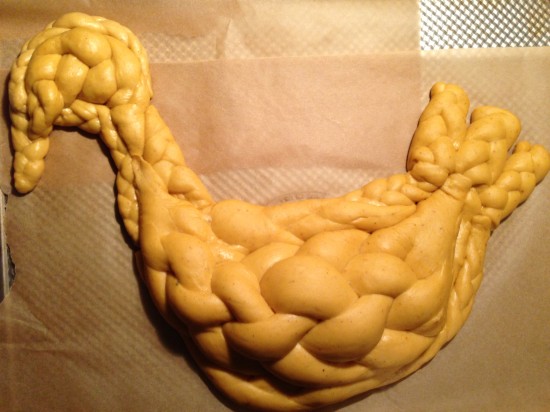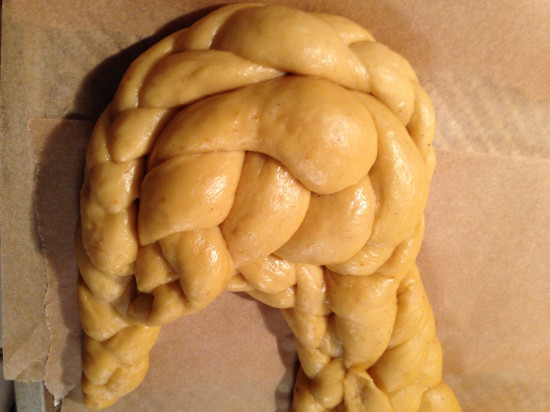 10.  With a pastry brush, paint the egg wash all over the bread, including in crevices. Place pumpkin seeds on the bumps and let rise in a warm, draft-free area for 45 minutes.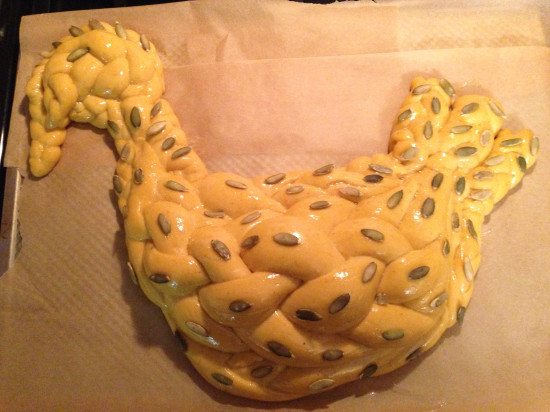 11.  Preheat oven to 350°F.  Bake on the middle rack for 12 minutes.  Turn the baking sheet around and bake for another 15 minutes.  Bread is done if it sounds hollow when tapped on bottom with fingers.  If not done, bake for another 5 minutes.
12.  Let cool on a rack before serving.
Et Voilà!  Turkallah!