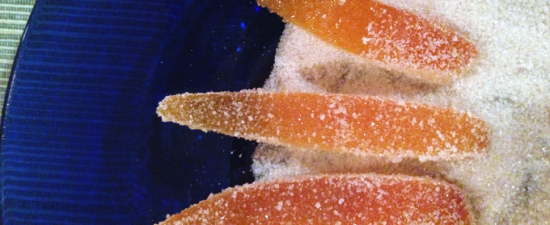 Candied Orange Peels
I try, when I can, to use all the different parts of an item of food, such as when I make candied orange peel from the organic oranges I love in winter. It minimizes our environmental footprint. Deliciously sweet and tangy, candied orange peel is a good source of dietary fiber, vitamin C and calcium. It is also versatile and can be enjoyed as is, dipped in melted dark chocolate or chopped and added to cakes, cookies or breads. And, it can be used for decorating cakes and other desserts or in sauces and marinades. I collect the peel as I and my family eat the oranges and freeze in a bag until I have the time to make the candied peel. It's definitely worth the effort.
Ingredients
3 oranges
Water to cover
1 cup sugar + ½ cup sugar
½ cup water
1 teaspoon vanilla sugar (optional)
3 cloves (optional)
Pinch salt
Instructions
Wash and pat dry the oranges. Gently scratch the top of each with a grater to just roughen the peel. With a sharp knife, make 4 length-wise cuts of just the peel from top to bottom to create four equal sections and remove gently to keep the peel intact. Place in a bowl and cover with tepid water. Place a plate or a heavy lid on top to keep the peel immersed. Let soak for several hours or overnight.
Drain the peel, rinse in cold water and place in a medium size pot and cover with water. Bring to a boil and cook for 10 minutes. Drain and rinse, then repeat cooking in fresh water and pot two more times. This will rid the rind of the bitterness. After the third time, drain and squeeze water from peel by gently pressing against the colander. Cut each piece length-wise into strips, each about one-half inch wide. Place 1 cup of sugar, ½ cup water, cloves and, if you'd like, vanilla sugar in a heavy-bottom medium pot. Cook on medium heat to dissolve the sugar, about 5 minutes. Add the peel and cook for about 15 minutes, stirring occasionally, until the peel looks translucent. At this point the peel has absorbed some of the sugar. Be careful not to caramelize the sugar. There should be a gentle bubble only and the syrup should be clear. Turn off the flame and let sit for about 30 minutes. Carefully drain the peel on a metal rack for about 20-30 minutes. Reserve the syrup in a glass jar and keep in the refrigerator for other uses. Place the leftover sugar on a plate and roll each strip in it. Another alternative is to let the peel dry longer without the sugar, so it appears glazed on top. Either way, place cooled peels in a glass container, cover tightly and keep refrigerated.