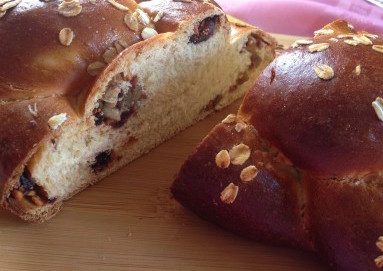 Seven Species Hallah
This delicious Hallah -- or Egg Bread -- features the seven species of food mentioned in the Bible: Wheat, barley, grapes, figs, pomegranates, olives and dates (honey). During January or February, the holiday of Tu Bishvat is celebrated in Israel. True to the lunar calendar, the holiday takes place on the full moon, on the 15th day of Shvat, the 5th month on the Hebrew calander. It is customary to eat dried fruits and nuts, especially almonds, as the delicate pink almond blossom is the first harbinger of spring in the Mediterannean. This holiday comes as close to earth day as can be, celebrated with school-age children planting saplings all over the country.
Serves:
1 large loaf or 2 small loaves
Ingredients
Dough for one hallah from your favorite recipe
OR

Ingredients for 2 boxes of Voilà! Hallah Traditional Egg Bread Mix + 1 extra Tbsp. oil or butter
¾ cups warm milk or water
2 large eggs, divided and 1 separated
¼ cup butter or oil
2 tablespoons honey, divided
Pinch of cinnamon
Seven Species Filling
4 medjool dates, diced
5 dried figs, diced
4 olives, diced
½ pomegranate, seeded
2 tablespoons golden raisins
¼ cup sliced almonds
¼ cup barley
¼ cup oats
1 tablespoon butter
1 teaspoon honey
Egg wash: 
1 egg white
1-3 tsp. sugar
Optional garnish: oats
1 tsp. oil or flour for board
parchment paper for 
baking sheet
Instructions
Place flour, sugar and salt in a mixing bowl of a stand mixer and mix to combine. Create a well in the center, add the yeast and mix it a bit with the flour mixture, pour warm milk or water and let stand for 5 minutes to froth. Add 1 whole egg, 1 egg yolk (reserve egg white for egg wash), butter or oil, and 1 tablespoon honey and mix with the dough hook on low for 10 minutes until dough is smooth and elastic. The dough will be a bit sticky—you may need to oil your hands to handle it. Place in an oiled bowl and turn over to coat. Cover and place in a warm, draft free area to rise for 45 to 60 minutes, or until it doubles in bulk.*
While the dough is rising, dice the fruits. Heat a pan over medium heat, add the barley and toast for about 10 minutes, until it softens. Add the oats, almonds, butter and honey and keep toasting for 7 minutes. Place the filling ingredients in a bowl and mix.
Grease a baking sheet or line with parchment paper. Oil or flour your working surface, divide the dough into 3 equal parts (6 if making 2 small loaves). With the cup of your palm, roll each portion into a ball, flatten the ball into a small disk and roll flat into a 6x12-inch rectangle. Spread 6 tablespoons of filling on the rectangle and roll up like jellyroll. Once rolled, roll the strand with your palms from the center of the strand to the edges to elongate the strand to about 18 inches long. Repeat with the rest of the balls. Braid and place on baking sheet. Let rise for 45 to 60 minutes in a warm, draft-free spot.**
Preheat oven to 350 degrees. Mix together the reserved egg white, tablespoon honey and pinch of cinnamon to make egg wash. Brush all over the loaf, sprinkle with oats, if using, place in oven and bake for 50 to 60 minutes. Loaf is ready if it produces a hollow sound when tapped on the bottom with your fingers. If not ready, bake for 5 minutes more and check again. Cool on a rack before serving.***
Tips:
*Dough may be prepared and put in the refrigerator over night for the first rise. Take out when ready to continue, gently deflate the dough and let stand to rise again and then proceed.
**You can create a warm box by placing a cup of just-boiled water in a cold oven or microwave next to the dough-filled bowl or on the shelf underneath it.
***Loaves can be frozen. Make sure to wrap with aluminum foil and then with plastic wrap. When ready to use, thaw on your counter top. Take the plastic wrap off and bake wrapped in aluminum foil on low heat—no more than 300 degrees for 20 to 30 minutes. It will look and taste fresh. Make sure to unwrap and cool on a rack.