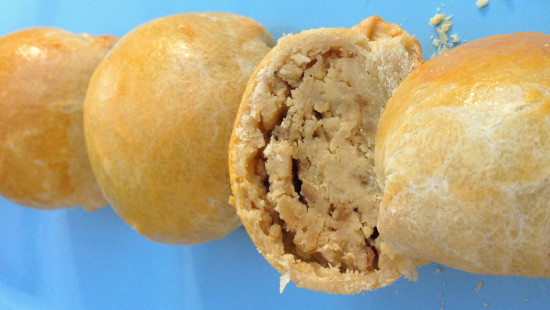 Steamy hot comfort food is what I crave during winter. Don't we all? It does not only warm body and soul. But a simmering pot of potatoes on the stovetop turns a cold kitchen into a warm, inviting hang out. Making knish, the favorite Jewish American potato dumpling, is all that. A piping hot filling of mashed potatoes and cartelized onions enveloped in pastry is delicious and comforting. It can be a side at a meal, a great snack, or packed for lunch. It freezes well so you can make a large batch and enjoy for days to come. To serve as hors d'oeuvres, cut smaller squares.

Potato Knish
Ingredients
Filling
6 small (1½ pounds total) Yukon gold potatoes, peeled and halved lengthwise
Cold water to cover
1 teaspoon salt
1 onion, diced
3 tablespoons olive oil
2 garlic cloves, pressed
1 large egg
½ teaspoon white pepper
Dough
3 cups all-purpose flour
1½ teaspoon sugar
¾ teaspoon salt
½ teaspoon baking powder
3 tablespoons olive oil
5 tablespoons sunflower or safflower oil
2 large eggs, 1 separated
6-8 tablespoons cold water
Instructions
Place potatoes in a pan, cut side down in one layer. Cover with cold water, dissolve salt in the water and bring to a simmer. Cover and cook for 15 minutes or until soft. Turn potatoes over midway. Strain potatoes if any water is left.
While the potatoes are cooking, sauté onion in 2 tablespoons olive oil until golden brown. Add the pressed garlic, mix well and cook for 30 seconds more.
To dry out any water in the potatoes, return them to the pot and cook over medium heat for a few minutes, stirring constantly and watching to make sure they don't burn. Smash the potatoes with a masher. Add 1 tablespoon olive oil and the egg, mash everything together until smooth and creamy, adding 2 tablespoons of water. Add pepper, adjust seasoning, and mix well. Add caramelized onions with any extra oil left in the pan to the mashed potatoes, mix well and set aside.
In a large mixing bowl, mix all the dry ingredients, then create a well in the middle. In a small bowl, whisk together both oils, the egg and egg white, and pour into the well. Add 6 tablespoons cold water and, with a wooden spoon or with your hands, work the dough until it comes together. You may need to add 1 or 2 more tablespoons of water.
Move the dough to a board and knead until smooth and pliable. If the dough is too sticky, dust the surface with 1 tablespoon of flour before kneading. Chill in the refrigerator for 15 minutes.
On a floured surface or a sheet of parchment paper, roll the dough into a 12 inch x 12 inch square, cut this square into 9 or 12 even squares. Place equal heaps of the mashed potatoes in the center of each square. Working one square at a time, brush with the remaining egg yolk around the edges of the square. Stretch the dough with your fingers and bring opposite corners to the center over the heap of potato and overlap, repeat with the other opposite corners. Turn the knish over and cup with your palm, shaping it into a dome.
Place the knish smooth side up on parchment lined baking sheet. Repeat with the rest of the squares. Mix the leftover egg yolk with ½ tsp. sugar and brush all over the knishes. Sprinkle with bit of coarse sea salt, if desired. Let sit for 15 minutes while preheating the oven to 350 degrees. Bake for 25 to 30 minutes until golden. Serve immediately or store in an airtight container in the refrigerator up to 5 days. Reheat stored knishes at 350 degrees for 10 to 15 minutes. To freeze, place in an airtight container or wrap in aluminum foil and a layer of plastic wrap and freeze. To reheat, defrost in the refrigerator overnight or on the kitchen counter for 1 hour. Heat on a baking sheet in a 350-degree oven for 15 to 20 minutes.