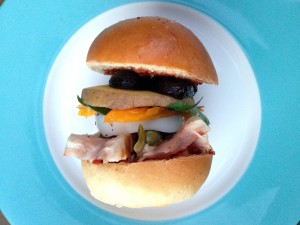 Two-Bite Tunisian Sandwich
I am not a football fan, but now that the chips fell where they did and the Super Bowl will pit the Seattle Seahawks against the Denver Broncos, it is time for party planning fun. By party planning, I mean the menu. I am answering a challenge to come up with a finger food for the Super Bowl that is fit for the fete.
If you are hardcore, all-about-watching-the-game football enthusiast, who buys three types of chips and three types of dips to go with beer and calls it a party, stop reading. But if your saliva glands go into overdrive by the mere mention of the epithet Super Bowl as you conjure the traditional meat-laden spicy fair of chili con carne and chicken wings, I beg: what about us vegetarians? Yes, we can gorge on chips and guacamole to our hearts' content, but it would be nice to have something that resembles a meal. Can I convince you to add something delicious and quite simple to make?
To simplify things for the busy host, that something would be a finger food   assembled from mostly store-bought ingredients. Because I am vegetarian, I decided to go with a small sandwich that would provide appropriate substitute to meat. But also be similarly spicy as the food usually served at Super Bowl parties. What I came up with is a two-bite Tunisian sandwich.
{ 2 comments }