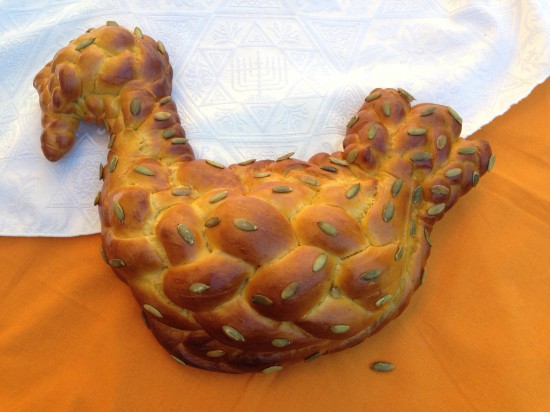 Turkallah, Turkey-Shaped Pumpkin Hallah
I created this braided bread recipe in 2013, the year of the rare convergence of Hanukkah and Thanksgiving. My pairing of pumpkin and hallah is a twist on the Sephardic Jewish traditional pumpkin hallah, pan de calabaza.  Many traditional bakers use pumpkin puree or potato water in their hallah dough.  It produces soft, fluffy bread.  My pumpkin bread, unlike pan de calabaza, uses sweet-spiced pumpkin butter. I added the cranberries for the flavor and visual effect and to make it more like Thanksgiving. A spur-of-the-moment inspiration, this DIY braiding project was so much fun that the next morning I found myself smiling every time I thought about it.  I could not believe how easily it all came together. You can use dough made from scratch or our Voilà! Hallah Traditional Egg Bread Mix. I wish for all of us to give thanks, count our blessings and have a delicious feast with loved ones.
Check out our Store Locator for a store near you. Or buy on our website or amazon.Here are more holiday or seasonal recipes on our blog: Sweet Cranberry Hallah, Cranberry Pumpkin Cheese Coffee Cake, Pumpkin Egg Bread.
{ 0 comments }