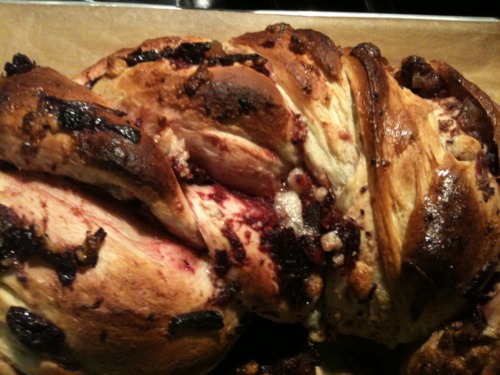 Sweet Cranberry Hallah
Ingredients:
Dough:
Ingredients for 1 box Tribes-A-Dozen Traditional Egg Bread Mix + add extra 1 Tbsp. oil
Egg Wash:
See instructions on box
Filling:
6 tbsp. orange marmalade
1/2 c cranberry sauce
100 g. marzipan, (if no marzipan, process 3/4 c slivered almonds with orange marmalade)
1/4 c diced Crystallized Ginger, optional
Streusel:
2 tbsp. sugar
3 tbsp flour
1 tbsp. oil
Instructions:
1.  Prepare dough following the instructions on the box, making sure to add 1-Tbsp. oil to the dough.
2.  After you got through instruction 3 on the box, stretch the dough with your hands over a large board (as if you were stretching pizza dough).
3. Spread orange marmalade all over the dough, leaving a 1-inch margin, then spread the cranberry sauce.  Crumble the marzipan all over.
4.  Roll the long side of the dough away from you.  Fold the roll in half and twist the two parts. Tuck the thin edge under to create an even loaf and place in an oiled or parchment-lined bread pan.
5.  Let rise for 45 minutes in a warm, draft-free area.  Apply egg wash all over the loaf.  Preheat oven to 350° F 15 minutes prior to baking time.
6.  Bake on middle rack of oven for 15 minutes, apply egg wash, sprinkle with streusel, and place back in oven for 30 more minutes.  Insert a toothpick in the middle of the loaf; if it comes out clean, it's done.  If not, bake for 5 more minutes.
*  This is a non-dairy recipe.  You could substitute butter for the oil in the dough.  You could also spread some butter on the dough and then add the rest of the filling.
Enjoy!
©2010 by Leah Hadad for Tribes-a-Dozen