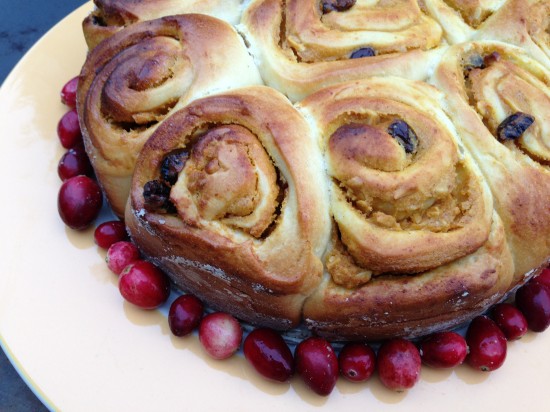 Few years ago, while developing my line of Voilà! Hallah Egg Bread Mixes, I developed a Cranberry Almond Hallah recipe that had become a tradition in our household during the Thanksgiving season.  The rare convergence of Hanukkah and Thanksgiving this year inspired me to add few more to my arsenal — Turkallah, a turkey-shaped pumpkin hallah — and the recipe I offer here for the Thanksgivukkah linkup: Pumpkin Cheese Babka.  This babka incorporates elements from Hanukkah and Thanksgiving.  Cranberry and pumpkin obviously represent the Thanksgiving tradition, but one may wonder what about this babka is traditional Hanukkah.
These days latkes and soofganiot are most commonly associated with the festival of lights.  Some claim doughnuts were first made in Poland.  I am dubious about this claim.  In my Yemenite tradition, we eat zalabia, which is a fried yeast roll.  As to latkes, it is a more recent  tradition.  Before potatoes arrived in Europe from the Americas in the 16th century, cheese pancakes were traditionally eaten during Hanukkah.  Hence my mashup of cheese with pumpkin and cranberries for Thanksgivukkah.  It would make for a delicious breakfast for family and company or an afternoon pick me up.  I have no doubt it would make for a heavenly bread pudding.  Happy Thanksgivukkah!
Cranberry Pumpkin Cheese Babka
Pumpkin Butter
1 15 oz can pumpkin
¼ c Tbsp. maple syrup (oiled spoon)
½ cup Brown sugar
2 tsp. vanilla extract
⅛ tsp. ground cloves
½ tsp. ground cinnamon
¼ tsp. ginger
2x Pinch of two fingers coarse salt
¼ cup apple cider vinegar
2 Tbsp. triple sec, optional
Cheese Filling
4 oz. farmers cheese
1 yolk
1 tsp. vanilla extract
1 tsp. grated orange peel
½ cup sugar
¼ cup dry cranberry
1 Tbsp. triple sac
¼ cup roasted slivered almonds, chopped
For Dough
Use your favorite babka recipe to make one loaf, or
1 box of Voilà! Hallah Traditional Egg Bread Mix
1 yeast packet, included
2 Tbsp. Sugar, optional
4 Tbsp. warm milk or water, 110°-115° F
1 large egg  + 1 egg yolk, room temperature
            6 Tbsp. oil or unsalted butter, sliced
Glaze
2 Tbsp. sugar
1 Tbsp. boiling water
Egg Wash
1 leftover egg white
Instructions
Read instructions and assemble all ingredients before you begin.
Prepare the pumpkin butter and the cheese filling.  You may do it a day ahead and refrigerate until ready to bake.
To make pumpkin butter, place all ingredients, except vanilla extract, in a small saucepan.  Cook on low flame for about 14 minutes, stirring as necessary to avoid spluttering and scorching, until thickened.  Add vanilla, stir and continue cooking for about a minute.  Adjust flavors and let cool.
To prepare the cheese filling, place all ingredients in a ball and whisk well to incorporate.
Place the cranberries and triple sack in a small bowl and cover with boiling water and let soak for 15 minutes.
To prepare dough from Voilà! Hallah Traditional mix, place the mix and yeast in the bowl of a stand mixer fitted with the hook attachment and stir.  Add water or milk and stir to combine.  Add eggs and 6 tsp. butter and mix on medium-low for 10 minutes, stopping to scrape down dough from hook and sides of bowl, as needed.  Dough will separate from sides of bowl and will be soft and elastic.
Oil or lightly dust your counter or board with 1-teaspoon oil or flour.  Roll dough into a ball and place in the center of your board.  With your fingers, pull the dough gently from the center and stretch evenly into an 18"x14" rectangle.
Mix the cheese filling with ½-cup of the pumpkin butter.  With a spatula, gently spread the filling evenly all over the dough, leaving a 1-inch clear margin;
Sprinkle the cranberries and the almonds. Facing the 18-inch side, fold about ¾-inch of the right and left edges over.  From the side closest to you, roll the dough away from you into a cylinder.  With a sharp knife, cut the cylinder across into 9 equal parts.  Place cut side up in an oiled 9-inch spring form.
10.  Place in a warm, draft-free area to rise for 1 hour.  Preheat oven to 350° F.  Whisk egg white with a fork and brush all over the loaf. Bake on the oven's middle rack for 40-50 minutes..
11. In a small pot, heat the sugar and water to make clear syrup.  Remove babka from the oven when ready and immediately brush with syrup.
12. Place babka on a wire rack to cool.
© 2013 Tribes-A-Dozen™, by Leah Hadad