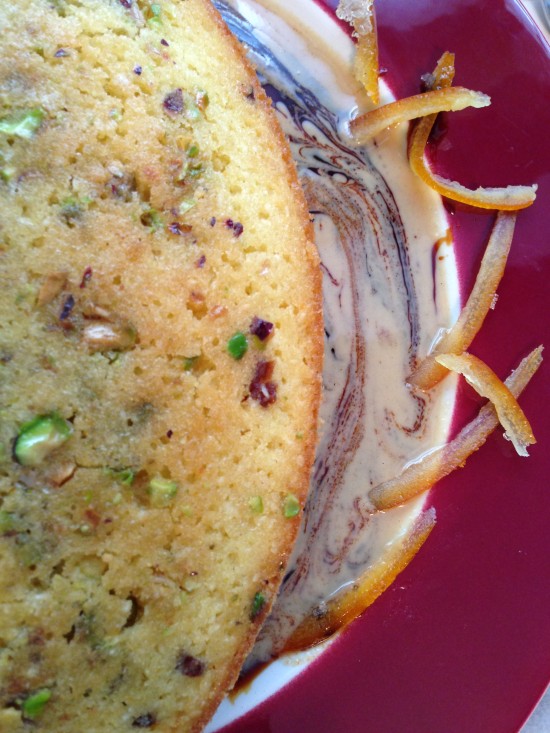 For the Kosher Connection's anniversary's July Great Blog Swap Challenge, I was assigned to reimagine a recipe from Dena's Oh You Cook blog.  A visitor to my Tribes-A-Dozen blog, Mixin' Traditions, is more likely to find hallah recipes and vegetarian dishes than cakes.  But when the first recipe in the Oh You Cook cake category turned out to be for Bassboosa, and the challenge turned out to be a piece of cake, so to speak. Bassboosa is the Egyptian version of Semolina cake. I love the musicality of this name.  And it's meaning.  Bassboosa is only a kiss, in Arabic.  When I was growing up, we baked cake every Friday for Shabbat.  Now I bake cake for special occasions mostly. But when I spotted the Bassboosa recipe, I immediately knew this would be it for this challenge.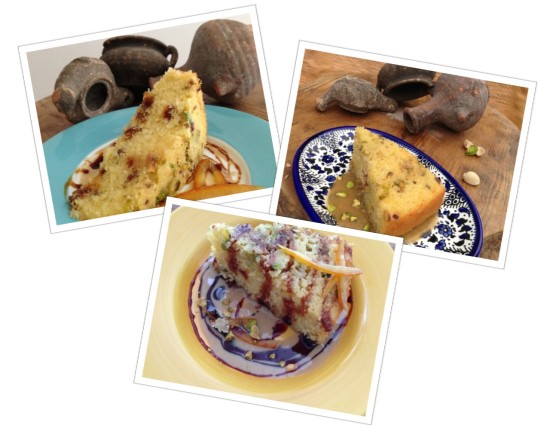 Semolina cake goes by many names, depending on which ethnic group proudly claims it as its own.  Other than Bassboosa, it is Herrisa in Alexandria, for the Turks and Greeks it is revani, ravi chi for the Indians  and Sephardi jews call it Tipishti.  All are made from Semolina, the coarse middling of the durum wheat.
Israelis nostalgically refer to this kind of traditional cake as oogah shel pa'am – a cake of yore. It is a cake that is easy to make and yet is utterly satisfying; a comfort cake that is a panacea to a longing to the actual or proverbial grandma's kitchen.  In Israel, this cake comes with the land  — many Jewish immigrants brought it with them to Eretz Yisrael and it is a tradition of the local Arab kitchen.  It makes me wonder — did we take it with us when we were scattered to the diaspora and than brought it back?  Who knows…
In every market in Israel, where you find layers upon layers of baklava, you will also find semolina cake.  I always found the concoction offered in the markets to be too sweet and its texture too moist.  However, once I baked the Jerusalem semolina cake version at home, I was bought.
The Jerusalem semolina cake is one that connects us to our biblical heritage.   Decorated chef and owner of Jerusalem's Eucalyptus, Moshe Basson is a pioneer of the biblical food revival and slow cooking in Israel.   Using ingredients native to the Jerusalem mountains, his cooking incorporates food the traditions of his Iraqi grandmother, the Halebi, biblical and local Palestinian kitchens.  Jerusalem semolina cake was the highlight of the scrumptious seasonal and local menu for my daughter's bat mitzvah dinner celebration at his restaurant a few years ago.  Simply served in a pool of row tahini and date syrup, his version was superb and everyone was clamoring for seconds.
I have been experimenting with this cake for quite some time now.  The Bassboosa in Oh You Cook is dairy.  For the recipe I am offering here, I stuck to my preferred nondairy preparation because this exotic cake would make a delicious dessert for a holiday dinner — not only is it easy to make, it also comes with a high 'wow' factor.
I won't be Mixin' Traditions if I did not add some of my own traditional ingredients to the recipe.  So, I added dates, a traditional ceremonial food for Rosh Hashanah and pistachios, which pair well with dates and add some color.  Adding cinnamon, cloves and cardamom to the syrup was for enhancing the connection to biblical times, as well as for added flavor and fragrance.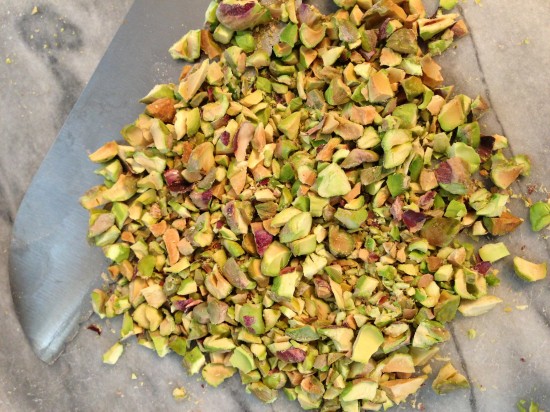 For the liquid, I usually use fresh squeezed orange juice as homage to my mother's oogah shel pa'am, orange cake.  Since it's not orange season and I was out of orange juice, I instead used water and added orange peel.  It turned out to work out very well.
To keep the dates from sinking to the bottom of the cake, place the Tbsp. of flour in a small bowl. Cut the dates into ¼-inch strips and than cut across.  Add the date bits to the flour, coat lightly and sift the remaining flour.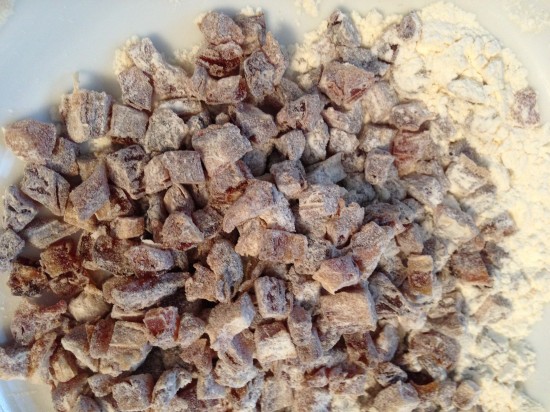 You will first mix separately and then combine the dry and wet ingredients.  No need for a mixer.  Whisk as you pour the wet ingredients onto the dry ingredients.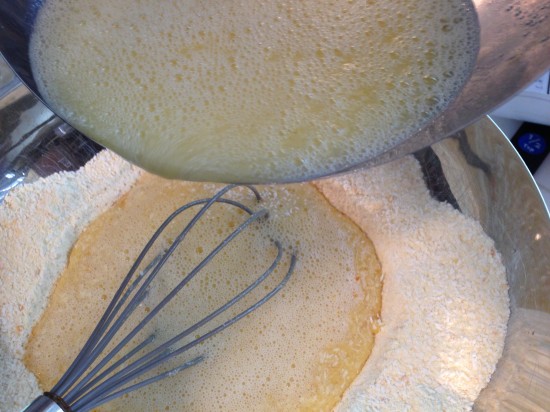 For the syrup, I give a range of quantities.  I prefer less sugar, but if you have a sweeter tooth, go ahead.  The spices are optional but they add sweet fragrance and enrich the flavor.  After baking, place on a rack and pour the syrup all over, as instructed. Serve with or without a tablespoon of halva sauce.  The quality and consistency of the sauce would depend on the quality and consistency of the tahini you used.  If the sauce is too thick, add water by the teaspoon to achieve a slightly runny, but not thin, consistency.  I suggest a one-to-one ratio of tahini to the honey or other syrup.  Taste and adjust to your liking.  Garnish with candied orange peel.  This delicious cake is as sweet as a gentle kiss.  And, it is just moist enough.  Enjoy!
Semolina Cake
Servings: 12-16
Time: 1 hr.
Equipment:
2 mixing bowls
9.75″/24 sm. spring form pan
Ingredients:
Cake:
1 cup semolina
1 cup all purpose flour
¾ cup sugar
1 cup coconut flakes
1 Tbsp. baking powder
Pinch Kosher salt
2 tsp. grated orange peel, if using water
4 large eggs
1 cup freshly squeezed orange juice or water
1 cup vegetable oil
1 tsp. vanilla extract
¼ cup pistachios, shelled and chopped
6 Medjool dates, diced
1 Tbsp. flour
For Pan:
1 Tbsp. oil or tahini
Syrup:
¾ – 1 cup water
½  – ¾ cup sugar
3 cloves
1 cinnamon stick
2 cardamom pods
Pinch salt
1 Tbsp. lemon juice
Halva Sauce (optional):
Mix equal parts of tahini and date syrup (silan), honey or maple syrup
Plan on 1 Tbsp. sauce per serving
Candied orange peel for decoration, optional
Instructions:
Preheat oven to 350° F.
Place the Tbsp. of flour in a small bowl. Cut the dates into ¼-inch strips and than cut across.  Add the date bits to the flour and coat lightly.  Sift the flour.
Shell and chop the pistachios.
Place the semolina, flour, sugar, coconut, baking powder, salt and grated orange peel in a mixing bowl and blend well with a whisk.
Place the eggs, orange juice or water, oil and vanilla extract in a bowl and whisk to blend.
Create a well in the semolina mixture.  With one hand, pour the egg mixture onto the well and, with the other hand, whisk it into the dry ingredients.  Continue to whisk until all is blended with no lumps.
Add the dates and pistachios and fold gently.
Pour the batter into the oiled pan, place in the middle rack of the preheated oven and bake for 30 minutes.  If a toothpick inserted into the middle of the cake comes out clean, the cake is ready.
While the cake is baking, make syrup by placing water, sugar and spices in a small saucepan.  Mix to dissolve the sugar, bring to a boil and let simmer gently on low until you get thin syrup cosistency, about 20 minutes.  Mix in the lemon juice.
When cake is baked, place on a rack.  With a long pick, make deep pokes all over the cake and pour the hot syrup by the tablespoon all over the cake.
Serve with or without a tablespoon of halva sauce.  Garnish with candied orange peel.
And now for the giveaway…remember to enter everyday for a chance to win these amazing prizes from Emile Henry! The contest winners will be contacted via email. They will have 48 hours to respond before other winners are chosen. This contest is open to United States residents over the age of 18. Contest is sponsored by Joy of Kosher.