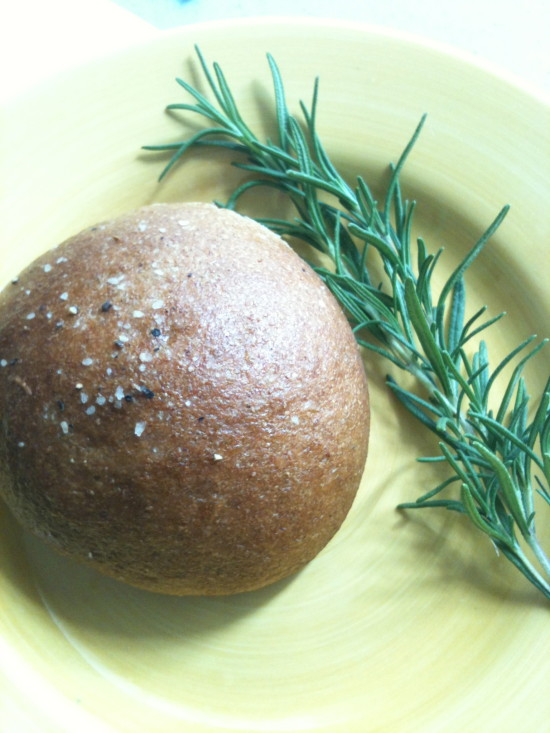 Fresh Rosemary abound into late fall, I like to serve these delicious Wholey Wheat Rosemary Rolls with a bowl of steaming hot pumpkin or butter nut squash soup.  Baking it will fill your home with a sweet fragrance that hints to the Rosemary, honey and olive oil that are infused in this roll.
Rosemary-Honey Wholey Wheat Rolls
You Will Need:
1 Voilà! Hallah Egg Bread Mix – Wholey Wheat
1 packet yeast, enclosed
½ cup + 3 Tbsp. warm water (110°-115° F)
1 large egg + 1 egg yolk, room temp.
6 Tbsp. olive oil
2 Tbsp. Honey
2 Tbsp. diced fresh rosemary leaves
Sea Salt and Black/Pink Pepper to sprinkle on top, optional
Egg Wash:
1 (remaining) egg white
1-3 tsp. sugar or honey (optional)
To Oil Bowl:
½ tsp. vegetable oil
For Board:
1 tsp. flour (wood/stone)
1 tsp. oil (stone)
READ ISNTRUCTIONS BEFORE YOU BEGIN BAKING
MAKES 20 SMALL /12 LARGE ROLLS
1. Place the chopped rosemary in a small bowl, pour the oil on top and let sit for 30 min.
2. Place the mix in a bowl of a stand mixer. Make a well at the center of the mix, pour in yeast and stir with a bit of the mix. Add water and let stand for 5 minutes, until it bubbles. Add egg, yolk, honey and oil and rosemary. With the hook attachment, mix dough on medium-low speed for 10 minutes, stopping to scrape down dough from hook and sides of bowl, as needed. Dough will be smooth, elastic, and a bit sticky.
3. Use your hands to rub ½ tsp. oil all over a clean medium bowl (1.5 Q/6 cup). With your oiled hands, scoop the dough, gather into a ball and place smooth side down in the oiled bowl. Turn once to coat and place in a warm, drat-free area to rise for at least 45 minutes.
4. Oil or lightly dust your counter or board with 1-tsp. oil or 1-tsp. flour. Roll the dough into a long log and cut crosswise into equal segments, the number of desired amount of rolls. Pinch and tuck the edges of each piece. With your hand cupped, roll each piece on the board into a smooth ball.
5. Place balls on an oiled or parchment-lined baking sheet.
6. Brush with egg wash all over the rolls and let rise in a warm, draft-free area for a minimum of 45 min. Preheat the oven to 350° F about 15 min. before you are ready to bake. Brush rolls with egg wash again. Sprinkle with sea salt and freshly ground pepper.
7. Place on the middle rack of the oven and bake for 20 min. The rolls are done when a toothpick inserted in the middle comes out clean. If not ready, bake for another 5 min. and test.
8. Remove from oven and place on a wire rack to cool. Wait 10 min. before breaking.
You Can Mix Without a Machine: using a wooden spoon to mix until dough is smooth and elastic. Then follow from instruction 3 on.
Baking with Bread Machine: Use a machine with 1 – ½ lb. capacity and follow the particular instructions for your machine.
"Break Bread, Not Tradition"
© 2012 by Leah Hadad for Tribes-A-Dozen