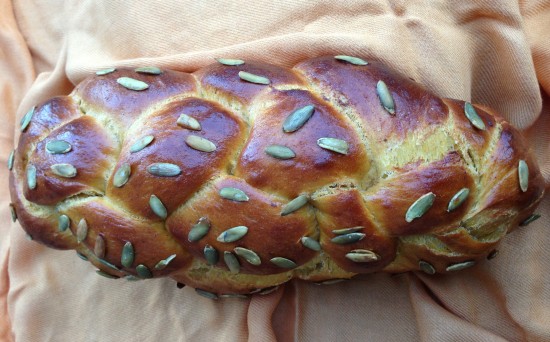 Pumpkin Hallah by Tribes-A-Dozen
Pumpkin Hallah
A twist on pan de calabaza, the Sephardi Jewish pumpkin hallah traditionally served on Rosh Hashanah, this hallah incorporates my sweetly spiced pumpkin butter.  Many bakers add a bit of pumpkin puree or potato water to their dough to produce a moist, fluffy loaf.  You may add chocolate chips or chunks, currants, dried cranberries, and nuts.  To turn the dough into a turkey-shaped hallah, click here.
Ingredients
Dough
4 cups + 4 Tbsp. all-purpose flour
1/2 cup sugar
2 teaspoon sea salt
2 packets active dry yeast
3/4 cup warm water, 110°-115°
1 large egg
1/4 cup oil
1/2 cup pumpkin butter, homemade or store-bought
1 Tbsp. maple syrup
Egg wash
1 large egg
1 Tbsp. maple syrup
Dash of ground cinnamon
Preparation
1.  Place flour, sugar and salt in a mixing bowl of a stand mixer and mix to combine.  Create a well in the center, place the yeast and mix it a bit with the flour mixture, pour warm water on top of the yeast and let stand for 5 minutes to froth.  Add egg, oil and pumpkin butter and mix with dough hook on low for 10 minutes until dough is smooth and elastic. The dough will be a bit sticky and easier to handle with oiled hands.  Place in an oiled bowl and turn over to coat.  Cover and place in a warm, draft-free area to rise for 45 minutes, or until it doubles in bulk.
2.  Oil or flour your working surface, divide into two or three equal parts.  Divide each part into three, or how many strands you wish. With the cup of your palm, roll each part into a ball, flatten the ball into a small disk and roll like jellyroll into a 12" strand.  Repeat with the rest of the balls.  Braid the strands, pinching the ends and tucking under the loaf, and place on an oiled or parchment-lined baking sheet.  Repeat with the rest of the loaves.  Mix together egg wash ingredients and brush on braided bread.  Let bread rise for 45 minutes in a warm, draft-free area.
3.  Preheat oven to 350° F.  Reapply egg wash all over the loaves, sprinkle with pumpkin or other seeds, if desired.  Bake for 30 minutes.  Loaf is ready if it produces a hollow sound when tapped on the bottom with your fingers. If not ready, bake for 5 minutes more and check again.  Cool on a rack before breaking.
Tips
*Dough may be prepared and put in the refrigerator over night for first rise.  Take out when ready to continue, gently deflate the dough and let stand to rise again and then proceed.
*You can create a warm box by placing a cup of just boiled water in a cold oven or microwave next to the dough or in the shelf underneath.
*You may freeze loaves. Make sure to wrap with aluminum foil and then with plastic wrap.  When read to use, thaw on your counter top.  I take the plastic wrap off and bake wrapped in aluminum foil on low heat – no more than 300° for 20 to 30 minutes.  Make sure to unwrap and cool on a rack.  It will be like fresh.