My specialty bread is hallah or challa, which is also called tres, barches, twisted bread, egg bread, and so on.  I love to bake it and I bake it often, as my company sells three all-natural Voilà! Hallah Egg Bread Mixes, two of which are whole grains.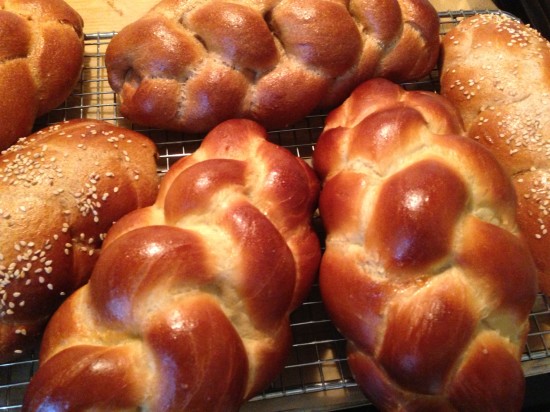 Tribes-A-Dozen
But for World Bread Day 2013, I chose to bake traditional bread from my Yemenite Jewish heritage.  You can say kubanah is hallah in a pot.  It is a type of Sabbath bread eaten on Saturday mornings after it slowly baked overnight in a warm oven.  I have childhood memories of being lulled to sleep on Friday nights by the aromatic fragrance of this yeast bread only to wake up to a breakfast featuring a steaming mahogany kubanah.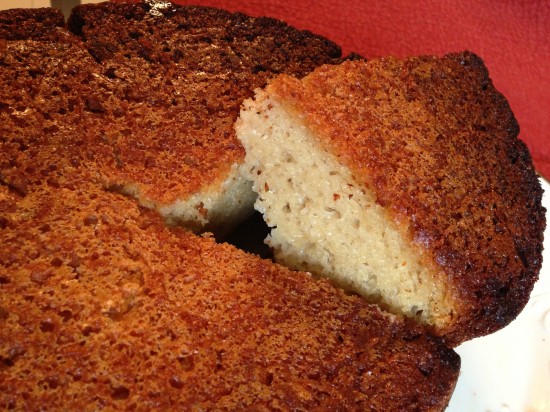 Tribes-A-Dozen
As with any recipe, everyone swears by grandma, aunt or mother recipe.  Yes, it was mostly the female's domain to bake at home.  The recipe I decided to work with is one I learned from an aunt few years ago.  Proununciation of the name varies, too.  I say kubanah (koo-bun-nuh); others say kubaneh (koo-bunnéh).  This bread originally used wild yeast and was baked in a taboun.  The flavor is balanced with sugar and salt that should not be discernible in the final product.  It was used mostly as soaker to dip in soup and fish stew.  Now a day, it is baked on the sweeter side.
The bread is traditionally baked in a round aluminum pot with a tightly fitted cover, which allows turning the pot upside down for even browning.  I have baked it in the past in a slow cooker and decided to do so today for this post.  It's a good solution to when cooking a big meal and stove space is limited.  However, it is hard to form a crust on the top of the kubanah when baked in the slow cooker and, so, I still prefer the traditional way of baking in the oven (190° – 200°F) overnight.
 Kubanah Recipe
1 kg./2.2 lb. all purpose flour
2 packets active dry yeast
1 tsp. sugar
3 cups hot water (110° F)
6 Tbsp. sugar
4 tsp. salt
1 unsalted butter stick/8 Tbsp., melted
A pot with a heavy lid or a large slow cooker
Place flour in the bowl of a stand mixer and create a well in the center.  Pour yeast and 1 tsp. sugar into the well and add 1-cup water.  Let stand for 5 minutes until bubbles.  Add salt and sugar and one and one half cups of the remaining water and mix with dough hook on low for 9 minutes, scraping hook and side of bowls as necessary.  Add the remaining one half cup water as needed for dough to be shiny and soft, but not runny.
Dough will be sticky, but will handle well with wet or oiled hands.  Cover bowl with dough towel or floured towel and let rise in a warm, draft free area for about 30 minutes.  Deflate dough gently, wet hands and knead the dough in the bowl tucking the edges under while rotating the bowl clock wise, just until smooth and round.
Pour few tablespoons of melted butter on the center of your board or working surface.  With your hands wet, squeeze a portion of the dough through your index finger and thumb and pull to cut a piece the size a tennis ball. Place the ball in the pool of butter, pat to flatten into a disk, grease the top of the disk with butter and roll into a cylinder.  Place in a well-greased pot (inside cover, too).  Add butter to the pool as necessary and repeat with the rest of the dough.
Cover and bake in a tightly closed pot overnight on 190° F.  If it is pale in the morning, crank up the heat.  Temperature would depend on by when you would want it to be ready.
The bread goes well with savory dishes, such as fish stew or soups.  Or, can be served with jams and other sweet or savory spreads.
Enjoy!