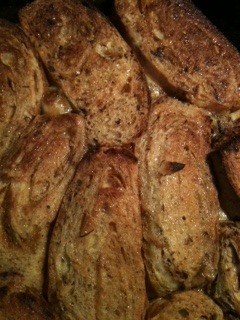 Perfect for a leisurely Sunday brunch, you might want to try my baked challah french toast recipe. Remember the orange-almond swirl Hallah I wrote about in my last post? Well, I kept what was left from the loaf in the refrigerator, thinking it would make a heavenly bread pudding. It turned out it will end up as a French toast. Baked French toast. So easy to make! And the aroma! An out of this world blend of sweet orange, vanilla, cinnamon and smidge of nutmeg. Yum!
Voilà! Hallah French Baked Toast (Dairy) [baked challah french toast recipe]
8 slices Voilà! Hallah bread, 1" thick
1/4 c butter, melted in a pan in the oven
1/3 cup sugar
3/4 tsp. cinnamon
smidge nutmeg
5 large eggs
3/4 c milk
1 tsp. vanilla extract
1. Preheat oven to 350° F.;
2. Place butter in a pan that will accommodate the Hallah slices. I used a 9×13 Pyrex. Place pan in oven to melt butter;
3. Mix eggs, milk, and vanilla in a bowl;
4. Sprinkle spiced sugar evenly over buttered bottom of pan;
5. Place Hallah slices in pan and pour egg mixture all over;
6. Let stand in refrigerator for 1 hour, or over night, till eggs are liquid is absorbed.
7. Bake in preheated oven for 25-30 minutes.
May serve with any syrup, a heap of caramelized apples or peaches (sautéed in butter), whip cream, or just plain. We had it plain as the orange-almond swirl Hallah was plenty sweet. Enjoy this baked challah french toast recipe!
Inspire and be Inspired!
Click to find out where to order Voilà! Hallah.