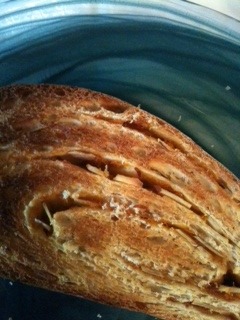 I would live on bread alone because I love any type of bread as long as it is fresh! Who doesn't? A person cannot live on bread alone (Deuteronomy 8:3)? Well, I'd like to take issue with that. The reality is that I deal with a host of contingencies, but for which I probably would have. Worried about our waistline, most of us limit bread consumption. We are concerned that if we start eating bread, chances are we won't stop. If I ever allowed myself, I would have a meal consisting of fresh bread only. With butter. Or, dipped in good quality olive oil. I'd top it off with Hallah toast smeared with butter, a layer of jelly, jam, or marmalade. Or a drizzle of honey that spells 'I love Hallah!' After all, it is the queen of all breads. Last Friday, I prepared two Voila! Hallah Traditional recipes. Half of the dough I braided into a 6-strand loaf of Hallah. With the other half, I went in a completely different direction. You can use any Challah recipe. Or, do it with either of our other Hallah mixes—Wholey Wheat or Simply Spelt.
Instead of dividing into small portions for braiding, I flattened the dough and stretched it into a large rectangle. I then spread some homemade orange peel marmalade all over dough (about ½ cup), drizzled some date molasses (about ¼ cup), which is totally optional and could also be substituted by maple syrup. I finished with a generous sprinkle of sliced almonds (about 1/3 cup). I then rolled the dough jellyroll-style, placed in a bread pan, applied egg wash and baked (after the rising).
This morning, I toasted a slice of this absolutely yummy bread that tastes and smells of a hint of bitter sweet orange. I could have smeared some butter on it, but it was delicious just as is. Can you see the sliced almonds tucked in between the layers of the swirl?
You can definitely substitute any flavor of jam or jelly (even garlic or onion jelly). You can also spread a layer butter or oil (pareve) and sprinkle sugar and cinnamon on top. Use your imagination.
I bet it will make a mean French toast. Can't wait to try it!
Enjoy!
Inspire and be Inspired!