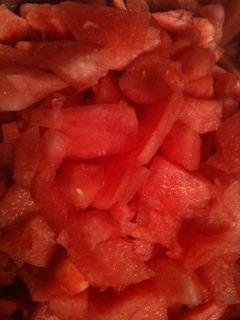 Making watermelon granita at the end of summer is like stowing bits of summer's heat and light in the freezer to indulge later on, during the the chill of winter, and to remember.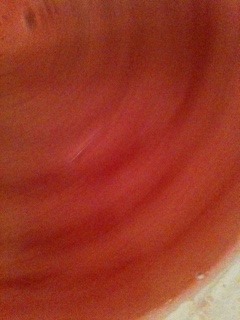 Remember the sweet, crunchy, juicy, red watermelon from the hot Mediterranean summers of my childhood.  Remember holding the curved long wedges in my two hands, slurping as I devoured the red flesh.  Remember the sticky juice dripping from my chin down to my elbows, and then staining my shirt.  Remembering a time, when watermelon had black seeds and spitting them was half the fun. Remembering simpler times.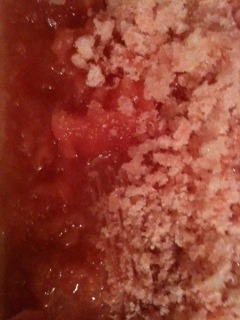 These days we often hear that we ought to  'let go' of this and of that.  Well, may be I oughta, but I just dont wanna let go!  So I save my cake and eat it!
This recipe is good for at least 12 servings.
Ingredients:
10 cups cubed watermelon
2/3 cup sugar (in a measuring cup, drop 2 Tbsp. homemade Vanilla sugar —or 2 bags store bought—and then make up the rest to 2/3 cup with white sugar )
2/3 cup water
juice from 1 lime (in a pinch, I use lemon, which is almost 4 Tbsp.)
few grains Kosher salt
Utensils:
a heavy-bottomed sauce pana sievea
non-reactive bowl
a food processor/blender
14"x10" (38×26 cm.) Pyrex pan
Directions:
1.  Boil water and sugar on high heat to dissolve sugar; add lemon and salt and mix;
2.  In a food processor or blender, blend watermelon.  You may have to do it several batches.  If you are using a food process, fill with fruit only to liquid line (if indicated on bowl, such as in Cuisinart);
3.  Place sieve over non-reactive bowl, and pore blended watermelon onto sieve.  Force as much of watermelon as you can through sieve.
4. Mix in syrup well, pour into pan, and place carefully in freezer; and
5.  Every 30 minutes scrape surface with a fork; do this 5 or 6 times till all liquid is frozen.
When I made it last, I had to go to bed before it was frozen through. It was not a problem at all.  I took it out in the morning and left it out for several minutes and then scraped it.  It came out beautiful and delicious!  This granita will keep in the freezer for a long time, if covered well, though I doubt it would last too long.
Serving suggestion:
Around the Mediterranean and the Middle East, it is customary to pair watermelon with Feta cheese or Labne (cheese yogurt).  I have my refreshing twist on this.  I prepare from sheep Labne a sweet lemon cream sauce and drizzle on top of granita.  I mix Labne, honey, lemon juice and lemon rind.  Measurements depend on quantity.  For 8 oz. of Labne, start with 2 tsp. honey, 1 tsp. lemon juice and peel form 1/2 lemon.  Mix well and adjust flavors to taste.  You can also use white sugar.
Let me know if you have questions.  If you made it, let me know if you liked it.
Enjoy!
Inspire, be Inspired!