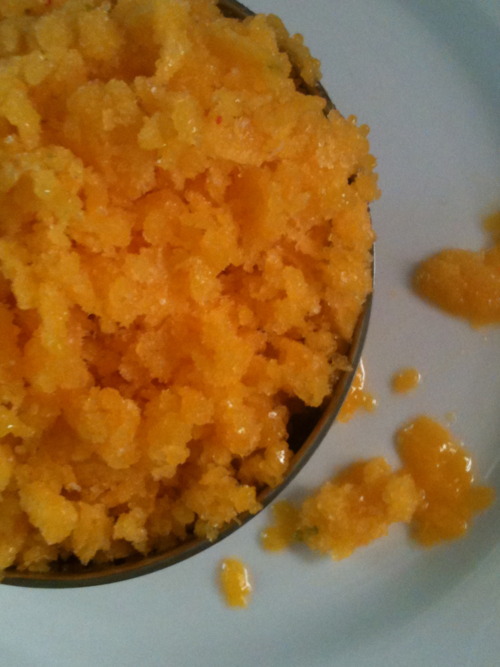 It has been quite a while since I had seen a Monarch in my garden.  The spring brought with it many cabbage whites.  Every time I walk out the door and see one fluttering about my front yard, my heart fills up with hope. It is even more so when I see a pair engaging in a mating dance.  No Monarchs, though. Can you imagine a world without butterflies?  I can't. I won't.  Both, the presence and absence of these magical creatures evoke a quiet yearning for simpler times. I sometimes can quench yearnings with food creations. Especially, when my imagination is involved.  One of my favorite spring treats, other than fresh berries, is champagne mango. Earlier in mid-spring, the enticing price at the market made me stop and pick the just ripe fruit at its most blazing orange.  The fruit's color reminded me of the Monarch.  What to do with this heap of mangos before it spoils?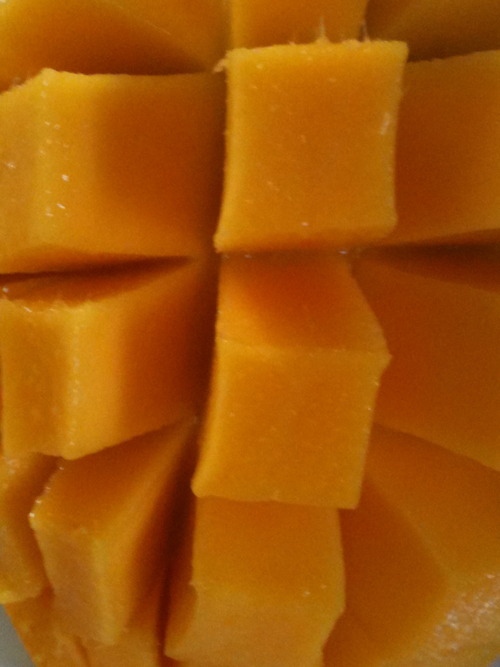 I like to just peel and eat the fresh orange flesh.  Adding cubed mango to black bean salad, elevates its palate appeal.  I also love it in green salads.  Its gentle sweetness pairs well with a zing of lime or lemon.  What else could I do with so many ripe mangos?  Create a food sculpture? I did.  But why waste this lusciously ripened fruit when eating Ataulfo, or champagne, mango, is like taking a multi-vitamin capsule.  A serving size of about 3.5 oz. is loaded with vitamin C (200%), vitamin A (35%), vitamin E (6%), Folate (50%), vitamin B6 (8%), etc.  It has the same amount of Pantothenic Acid as in avocado (4%).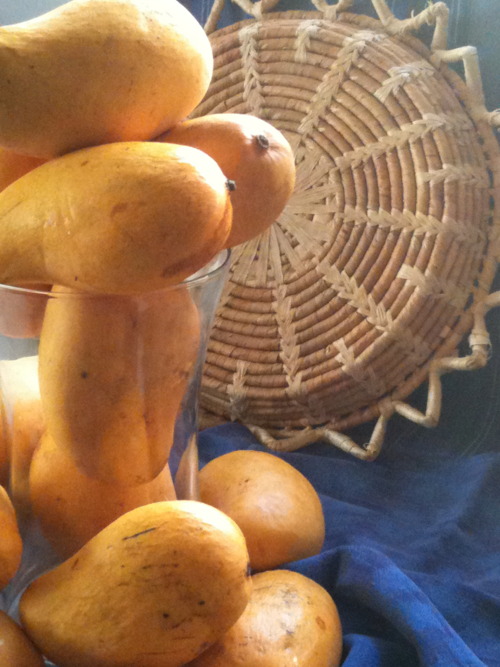 Instead, 'granita' sprung to mind in the midst of the unusually hot spring days.  Last summer, I indulged my family with watermelon granita.  A big hit!  I first made it as a palate cleanser for an elaborate meal I hosted as a donation to my son's public school auction.  We loved it so much that I made some more.  My kids looked forward to their granita at home after camp in the oppressive heat of summer.  I figured, with granita, I will stretch the enjoyment of this wholesome spring delicacy a bit longer.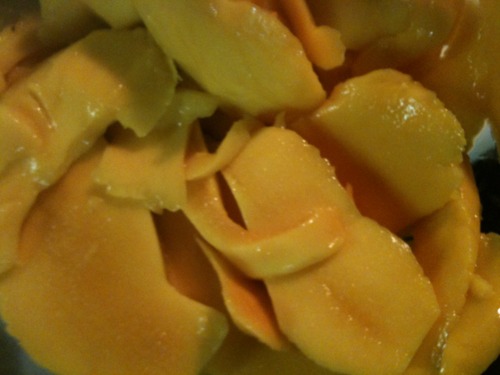 I used the watermelon granita recipe, which I adapted from an online recipe, to guide me through preparing the mango granita.  As the bowl was filling with the orange hue of the mango's flesh, I was inspired to create a granita that is visually reminiscent of the Monarch.  So I added green lime peel and freshly ground whole pink peppercorns to fleck the orange. The grainy pepper will also add a surprising kick.  The limejuice will not only perfume the granita, it will also mellow its sweetness and make it taste more refreshing.  I figured ginger will complement all these elements and add a bit of heat, so I added crystallized ginger.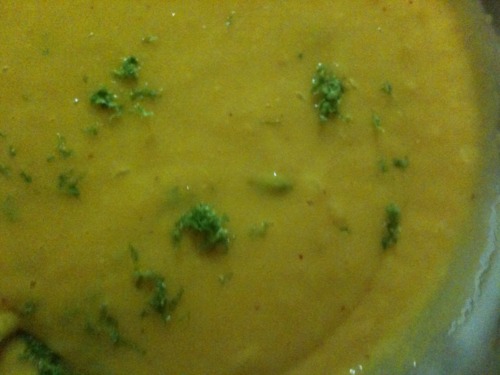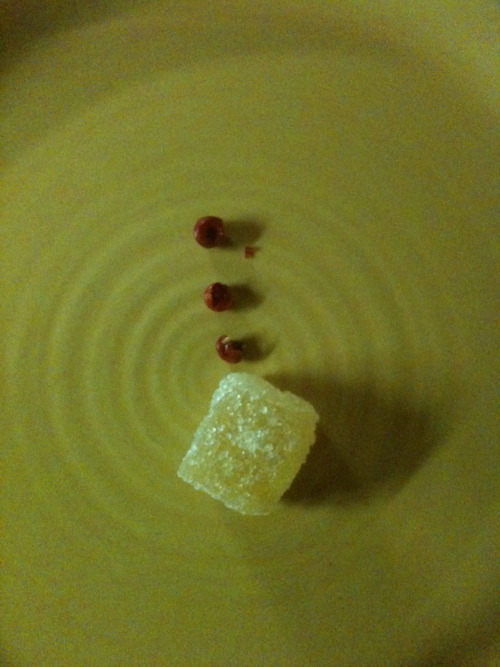 Butterflies remind me of childhood.  I learned the name of the cabbage white at grade school, where we grew vegetables in the school's garden. Butterflies also remind me of a line in a poem, The Butterfly, written by Pavel Friedman, a child in the Jewish ghetto of Terezin during the Holocaust.  (see below).  The line says '[o]nly I never saw another butterfly.'  In the absence of things, we use our memories.  We also use our imagination.  Memories fade with time, yet we are always free to imagine.  I hope I will never have to imagine a butterfly, but I am comforted to know I could if I had to.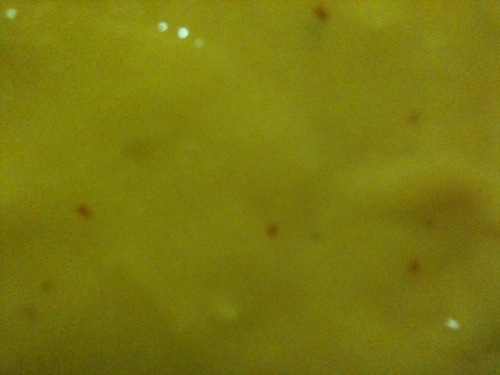 Seasons extended, the markets are still carrying champagne mango.  Making granita can quench yearnings only for a bit of time. While yearnings are part of our human condition, we ought to remember to live the life we have now.  At times, it becomes a choice between either living the life we have or pursuing the life we want to have. Whichever we choose, having some cold granita on a particularly hot day makes life that much sweeter.
Champagne Mango Granita
13 Champagne Mango (Ataulfo)
½ tsp. ground whole pink pepper corns,
¼ (50 g) cup crystallized ginger
4 Tbsp.  sugar
1 cup boiling water
peel from one lime
juice from one lime
pinch kosher salt
1.     Cut peeled and seeded mango and place in a glass bowl;
2.     Process mango in a food processor till smooth, in several batches;
3.     process pepper corns and crystallized ginger with last batch;
4.     dissolve sugar and salt in a cup of boiling water, add to mango and mix well;
5.     add lime juice, lime peel, and mix well;
6.     pour mixture into a 9.5-by-14.5-inch deep-sided glass pan, and place in freezer;
7.     scrape surface of mixture every 45 min., till mixture sets.  Granita will set in    about 3 hours.
8.     Once set, scrape the surface with fork tines, serve immediately or return to freezer until ready to serve.
Granita can be stored in an airtight container in the freezer up to 2 weeks.  I keep it in the Pyrex pan and cover it with plastic wrap.
TIP:I liked adding juice from 1 lime.  You may want to first add juice from only one half of the lime, taste and decide whether to add the other half.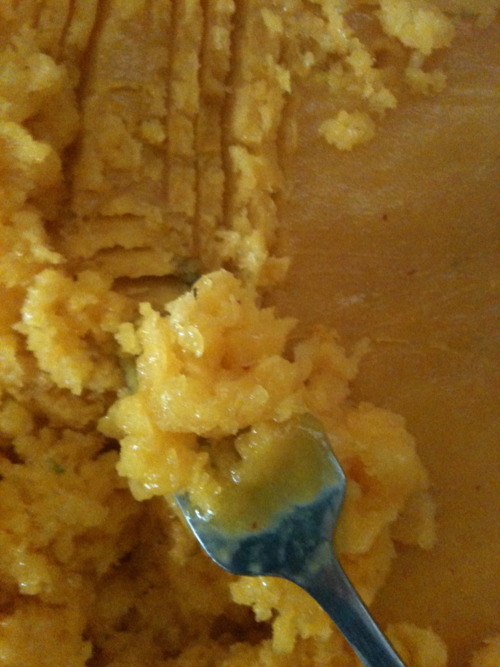 The Butterfly 
by Pavel Friedman

The last, the very last,
so richly, brightly, dazzlingly yellow.
Perhaps if the sun's tears would sing
against a white stone….
Such, such a yellow
is carried lightly 'way up high.
It went away I'm sure because it wished to
kiss the world good-bye.
For seven weeks I've lived in here,
penned up inside this ghetto.
But I have found what I love here.
The dandelions call to me
and the white chestnut branches in the court.
Only I never saw another butterfly.
That butterfly was the last one.
Butterflies don't live in here,
in the ghetto.
Enjoy!
Inspire and Be Inspired!