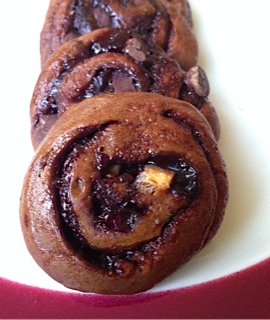 My chocolate babka inspired me to create these chocolate bites when I wanted an easy, yet elegant, dessert for a holiday dessert buffet table. So I named them babkales (bab-ka-lé). Each babkale, or bite, fills the palette with a swirl of delicious flavors — cherry, chocolate and a hint of cinnamon. Delicious! And, using a box of Traditional Voilà! Hallah Egg Bread Mix, makes this an easy recipe to please any crowd, however sophisticated it may be.

Double Chocolate Swirl Bites
Double Chocolate Swirl Bites are a perfect addition to a dessert buffet table.
Ingredients
Dough:
1 box of Voilà! Hallah Traditional Egg Bread Mix
½ cup minus 2 Tbsp. warm water (110°-115° F)
1 large egg
1 large yolk
6 Tbsp. vegetable oil
½ cup cocoa mix
Cocoa Mix:
½ cup cocoa powder
1 cup sugar
1 tsp. cinnamon
Filling:
4 Tbsp. cherry preserve
4 Tbsp. cocoa mix
¼ cup white chocolate chunks or chocolate chips
Egg Wash:
1 egg white
Instructions
Mix cocoa powder, sugar and cinnamon in a small bowl and set aside.
Prepare dough following instructions 1 & 2 on the box, making sure to make the ingredient adjustments as indicated above. Oil or lightly dust your counter or board with 1-teaspoon oil or 1- teaspoon flour. Divide the dough in half and roll into balls. Roll each ball into an 8x14 inch rectangle and spread 2 tablespoons preserve, sprinkle with 2 tablespoons cocoa mix, and sprinkle ¼ cup chocolate chips, leaving a ½ inch margin. Roll the long side into a tight roll. Place a ruler on the board along side the roll and, with a sharp knife or kitchen scissors, cut across the roll every 1-inch. Place the babkales in muffin tins or on a parchment-lined baking sheet and let rise in a warm, draft-free area for 30 minutes. Repeat with the other ball. Brush with egg white and bake in the middle rack of a 350° F preheated oven for 18-20 minutes. Let cool on a rack. Makes 24-28 babkales.