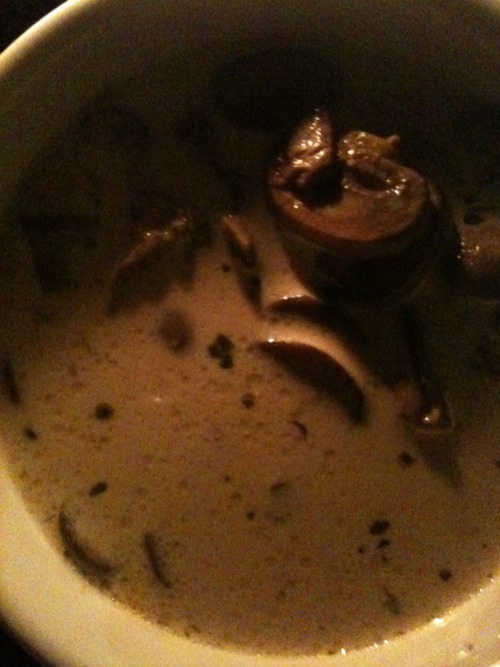 I find the ethereal beauty of the snow-covered city breathtaking.  I always feel as if I see it for the first time, just like with a bride's gleaming white gown.  Normally I look forward to snow days as respite from hectic daily routines.  If not quite standing still, life definitely seems to slow down.  Not today, though.  With a power outage since before dinner last night, I awoke to a  chilly house and a sink full of dinner dishes, and no connection to the outside world, other than a simple landline telephone that does not require electricity.  There was no way I could take it easy today!  I had to be prepared for the worst.  We needed more batteries, ice bags for the stocked freezer and refrigerator, more food, and finding a place to charge laptop and cellphone.  And, there was also the 'what for dinner?' dilemma. My husband offered to pick up something on the way home from work. So the obvious question is why bother with cooking.  Don't ask!  With the dipping temperatures and only two functioning burners, it had to be soup for dinner.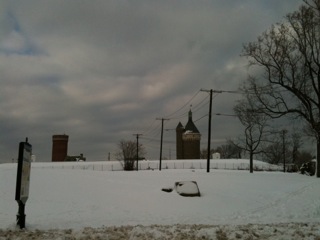 The blessings of plowed roads led us to our local Whole Foods, which turned out to be a warm refuge for, not only grocery shopping, but also for a hot lunch, good coffee, and plenty available outlets for charging laptop and phone.  Four hours and $20 worth of parking fees later, we left with several bags full of groceries. I initially thought that I only needed few items, including cilantro for my favorite chickpea soup I was planning for tonight's dinner.  But walking by the shelves stocked with different kinds of mushrooms, I changed my mind.  We had Portabella mushrooms for dinner last night, but I realized that nothing would satisfy my cravings for soup on this wintry day other than the woodsy aroma of mushroom soup.  While I usually prepare a non-creamy version, the likely prospect of another freezing night without heat was a good-enough excuse for enriching the soup with heavy cream.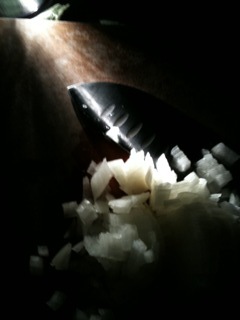 As sledding was also on the menu this afternoon, we got back home after dark.  I overcame the challenge of cooking in a dark kitchen with the help of candles, a flash light, and an oil lamp I picked at the hardware store this afternoon.  We had another candle light dinner.  The soup was a huge success.  It was worth every bit of trouble.  The lights came on all of a sudden, just after dinner, when I was getting ready to walk up and down the two stair flights for 20 minutes.  I thought it was a good plan to keep my streak of 28 days of exercise.  But with power on, I opted for the treadmill.  It occurred to me that we so take all of it for granted — dishwasher, stoves, central heating, and treadmills.  Enjoy!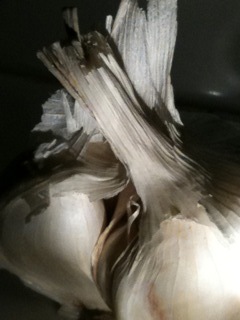 Quantities are close approximations, as I did not bother with exact measurements.
Wintry Woodsy Mushroom Soup with a touch of Cream
In a heavy pot, heat up
2 Tbsp. olive oil
2 Tbsp. butter
Sautee for about 5 minutes, till translucent,
1/2 onion, diced
Add
12 oz. sliced Shiitake mushrooms
12. oz. sliced Bella mushrooms
5 garlic cloves, pressed
1 tsp. dry thyme, pulverize as you rub between thumb and index finger,
white pepper, about 1/4 tsp., or to test
Saute until all liquid evaporates and mushrooms are tinted golden brown around edges,
Add
about 3/4 to 1 c red wine, let alcohol evaporate
Add
6-8 cups of water
a pinch or two of sugar
2 tsp. Kosher coarse salt
Cook for 15 -20 minutes, till reduced a bit.  Heat about 1 cup heavy cream in a small pot.  Ladle soup to bowls and add a bit of warm cream to each bowl, to taste.
*I did not miss the nutmeg, which I like, but forgot to add.
Keep warm!
Inspire and Be Inspired!