Voilà! Hallah Egg Bread Mixes
Can you close your eyes and inhale deeply? Now let your mind fill with the warm, satisfying, wholesome fragrance of home-baked bread. Bread that you baked . . .
In your oven. You baker, you.
And your kitchen? Not dusted and dotted with flour. Easy cleanup.
Now open your eyes. Voilà! Hallah makes it possible, in much less time and with much more ease than your grandmother could've imagined.
Tribes-a-Dozen offers three signature Voilà! Hallah mixes, so that your mixing-bowl-to-table experience is no fuss, no muss.
Our recipes are all natural, relying on tried and true ingredients in their purest forms. We use only premium ingredients in our bread mixes. Our whole grain — wheat and spelt–flours are certified organic, as is our flavoring. Our products are certified Kosher by the Orthodox Union (OU).
Voilà! Hallah Traditional Egg Bread Mix
For those asking "what is hallah (challah) bread," our Traditional is the classic egg bread baked at home for generations around the world. This blend of carefully selected premium ingredients bakes into a fragrant Hallah, a nourishment for the soul as much as the body.
"Dense, lovely, satisfying. This traditional challah has just the right balance of everything. I'm getting out my French toast recipe now." – Abby K., Washington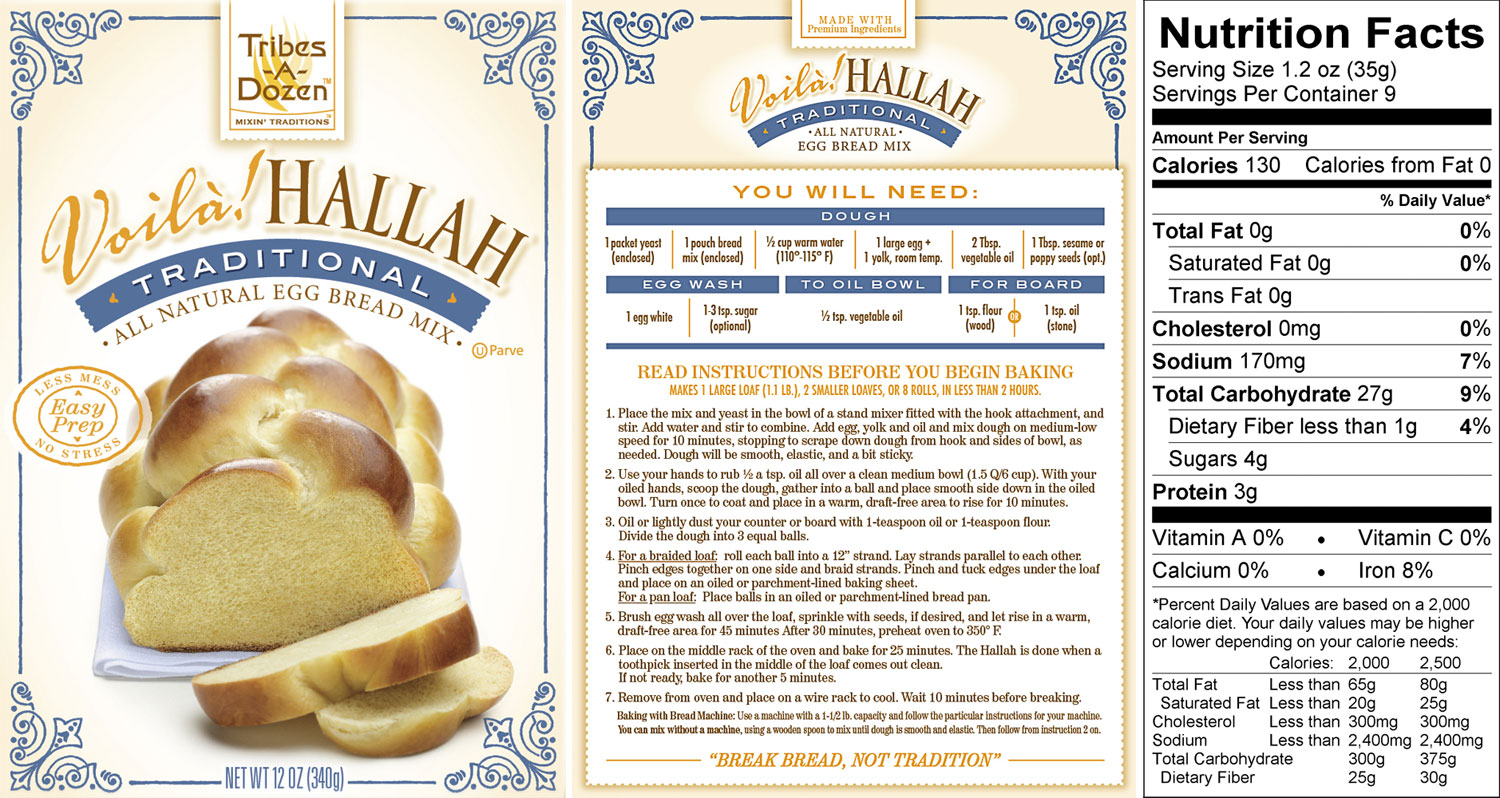 Ingredients: Unbleached unenriched wheat flour, unbleached and enriched wheat flour (niacin, iron, thiamine, riboflavin, folic acid, malted barley flour), turbinado sugar, sea salt, and organic flavor.
Voilà! Hallah Wholey Wheat Egg Bread Mix
Nourishing and delicious, our Wholey Wheat is made from premium organic whole grain wheat flour. It bakes into a honey infused Hallah loaf rich with old-world authenticity.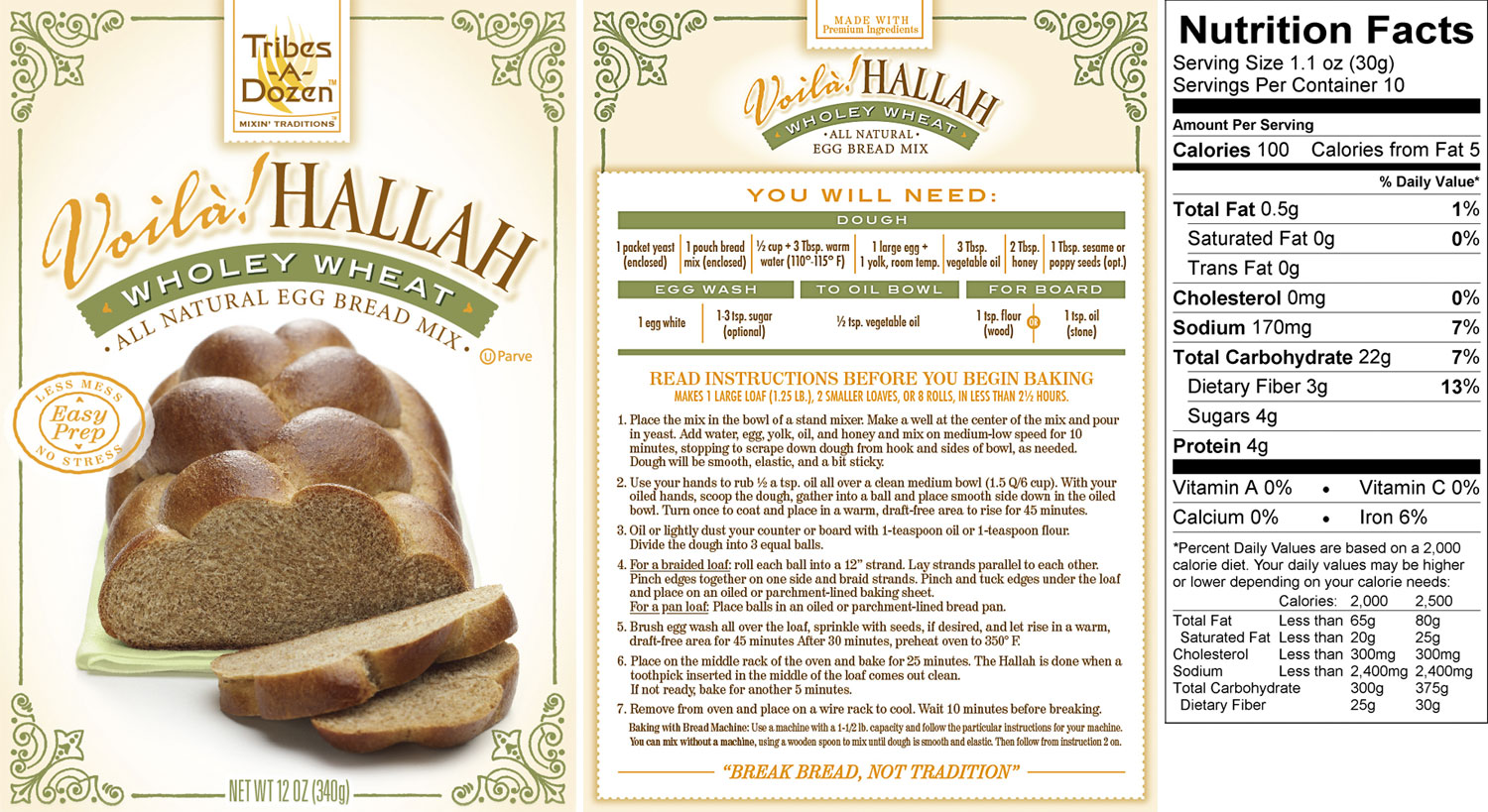 Ingredients: Organic whole grain wheat flour, brow sugar, turbinado sugar, sea salt, and organic flavor.
Voilà! Hallah Simply Spelt Egg Bread Mix
Our Simply Spelt is made from organic ancient whole grain Spelt flour. Spelt's natural high content of fiber, vitamins, and minerals – combined with its unique, subtly sweet, nutty flavor — makes our Simply Spelt nutritious and delicious.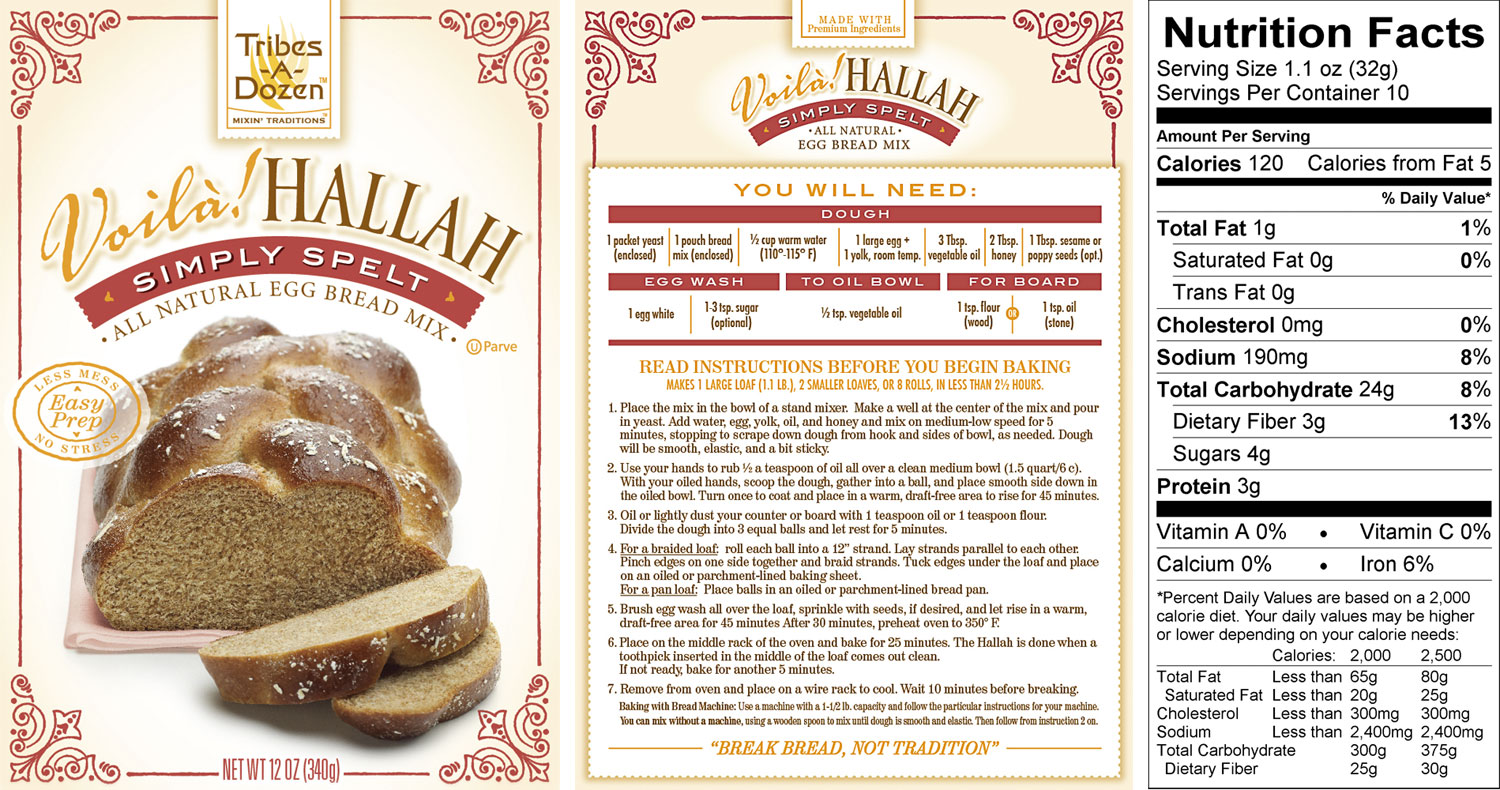 Ingredients: Organic whole grain spelt flour, brow sugar, turbinado sugar, sea salt, and organic flavor.
Why we use organic whole grain flour in our egg breads:
Whole grains offer a rich, natural source of nutrients that the body can efficiently process. Including more whole grains in a diet has many health benefits and reduces the risk of a host of diseases.
Bread made from Spelt, a superior whole grain with more than 30% more protein than wheat, is gentle on the digestive tract. Its high protein content is good for vegetarian diets. Spelt's low glycemic index — a slower breakdown of its carbohydrates — makes it suitable for people with diabetes. Consult your healthcare provider for any special dietary needs.
Tribes-A-Dozen Green Statement:
Our wholesome, all natural mixes are manufactured at a facility that is committed to sustainable production practices that include use of renewable wind and solar energy and a recycling process able to reduce, reuse, and recycle 90% of all production.
Click here to learn more about Tribes-A-Dozen and our founder, Leah Hadad.
Tribes-A-Dozen is available for sale to the public via Amazon.com.
Nationwide distribution will follow. Help us spread the joy of baking Hallah bread at home. Ask your grocer to carry our products.
Are you a distributor or a broker interested in partnering with us?
We welcome contacts from distributors and brokers. We are also entertaining inquiries about partnerships within the food service industry. For inquiries please contact us at sales@tribesadozen.com.