If they look good and they feel good, should I serve my guests the whole wheat Hallahs without tasting them first?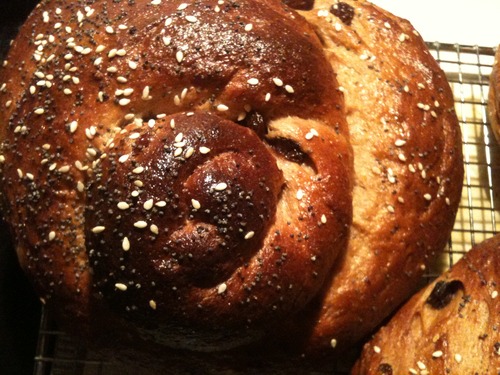 In preparation for hosting both nights (panic button, anyone?) of Rosh Hashanah next week, I started my holiday baking today with four raisin whole wheat round Hallahs.  I have been experimenting with whole wheat baking for quite a while, challenging myself to create a delicious, soft 100% whole wheat Hallah.  While I am told I've got the taste covered, I did have my share of dry crumb.  Some were so hard that, if I dropped one on somebody's head, it would be considered an assault with a dangerous weapon.
Last Rosh Hashanah, while the whole wheat Hallah tasted good—as was evident by the Hallah's disappearance—its softness was not quite up to my standards.  So, this year it was important that the Hallah not only taste good, but also feel good, pillowy soft.
Along the way of experimentation, I figured out some tricks to help accomplish my goal of creating a divine whole wheat Hallah.  Today, I threw the book out, and let my experience, aided by my intuition, be my guide.  Then, I let time do its trick.  Nothing like time to ripen things.
The question remains. They look good.  They are soft to the touch—no choking danger for the fish at the creek when I throw the leftovers, if any, at Tashlikh.  Should I taste them or shouldn't I?  Plump, sweet raisins, deep amber honey, brown sugar, eggs—can't go wrong… Can't decide!  What do you think?
Whole wheat Hallah is checked off the list.  Next, traditional round raisin Hallah, rugelach, cranberry and orange babka, honey cake (chocolate, that is), chocolate mousse cake, and few more.  It's going to be a sweet Rosh Hashanah!
Good, Sweet Year!