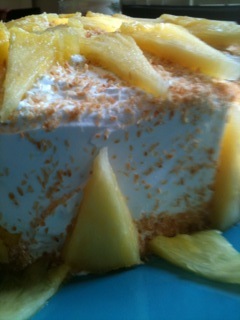 A time of glorious renewal in Washington, DC, this delayed and much looked forward to spring brought with it the loss of two dear people in my life.  One lived to the blessed age of 92, and left this world in a manner which we tend to refer to as a blessing, without suffering much pain.  The other, at 56, and with so much to look forward to, was a victim of an avoidable accident. So jarring, her death left us gasping for understanding, unable to find the silver lining in what seems a senseless loss.  These are painful reminders about the fragility of life.  Yet, even in our grief, life moves forward forcefully.  Both appreciated the gathering of family and friends with good food to share.  Here is the recipe for the Welcome Spring with a Kosher for Passover Pineapple (nondairy ) Cream Cake I prepared for the first Seder.  Share it with family and friends as you hold them close to your heart.
For Cake:
6 eggs, separated, room temperature
3/4 cup sugar
2 Tbsp. water, room temperature
3 Tbsp. grape seed oil (or other vegetable oil of your choice)
1 1/2 tsp. vanilla extract
1 tsp. orange peel
2/3 cup matzah cake meal
1/2 cup potato starch
For Topping:
1 16 oz. Unger's Whip Non-Dairy Topping (or dairy whip/heavy cream)
4 Tbsp. powdered sugar, or to taste
1 tsp. vanilla extract
1 fresh pineapple
1/2 cup coconut flakes
Syrup:
1/2 C warm water
2 Tbsp. powdered sugar, or to taste
Instructions:  Preheat oven to 350° F
1.  In a small bowl, mix meal and starch together;
2.  Separate yolk from egg whites and place in two separate bowls;
3.  Beat whites and till frothy and then slowly add sugar (let it trickle from the cup onto the whites) till stiff peaks are formed;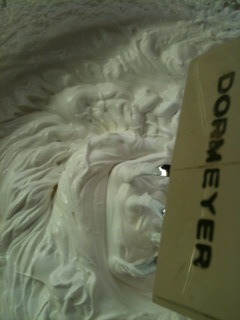 4.  Beat yolks with water, oil, vanilla, and orange peel;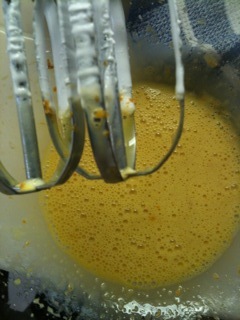 5.  Add 1/3 of yolks and 1/3 of meal mixture to whites and fold gently. Keep adding in thirds till all ingredients are folded together;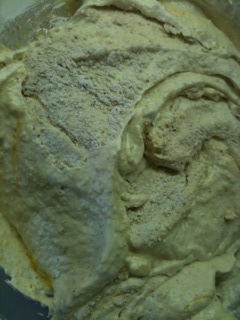 6.  Oil a 8" round spring form pan, spread some matzah meal on all sides and shake excess.  For passover, I find it much easier to use a disposable paper cake pan, 7-7/8"x2-5/8".  Once the cake is baked, you can easily tear paper of the cake.
7.  Pour mixture onto cake pan, place in middle rack and bake for 40 minutes.
8.  While cake is baking place whip cream in freezer for few minutes and cool bowl in refrigerator.  Whip the very cold cream with sugar and vanilla till cream is firm.
9.  Cut about half the pineapple into 1/4" thick wheels.  Then cut wheels into 8 triangles.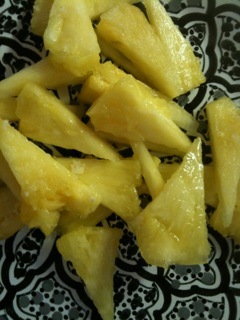 10.  Dice some of the pineapple to about of 1/2 a cup of mushy fruit pulp.
11.  For the syrup, mix the warm water with the sugar to dissolve.
12.  Once cake is baked, take out of oven and turn off oven.  Spread coconut flakes on a cookie sheet and leave in hot oven for few minutes till golden.  Be careful not to leave it too long in the oven.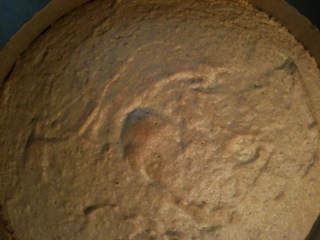 13.  Cool cake on rack.  Once cooled, cut cake horizontally into two layers.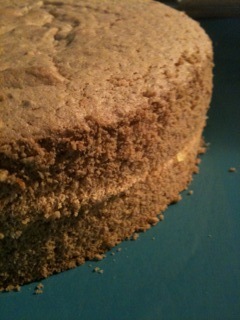 14.  Place bottom half of cake on a serving platter.  Sprinkle about 1/2 the syrup on top of the bottom layer, spread diced pineapple and any juice on top of bottom layer, sprinkle some coconut and cover with about 1" of whipped cream;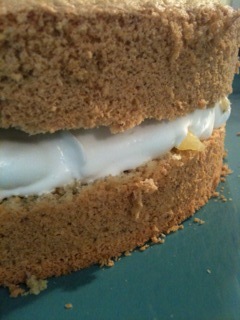 15.  Place top layer of cake on top;
16.  Spread remaining whip cream on top and sides of cake.  Sprinkle with remaining coconut, and arrange pineapple triangles around top of cake and on the bottom of cake.  Let your creative juices take over…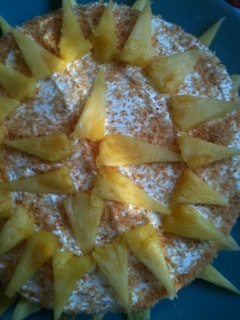 17.  Enjoy!
Tips:
1.  A trifle is an easy alternative to a cake.  Cut cake into 1" square cubes and layer in a glass dish just like a layered cake:  cake cubes, sprinkle syrup on top, pineapple, whip cream, and coconut.
2.  Instead of the syrup I suggest here, you can use pineapple juice, or thin some of your favorite jelly with water or some favorite liquor.
3.  I prefer natural ingredients and I usually use natural dairy cream.  So if you don't need a parve or non-dairy dessert, use regular heavy cream.
4.  You can use other fruit, such as berries, instead of pineapple.  Go ahead, make it yours!
Inspire and Be Inspired!