Tribes-A-Dozen's Rosh Hashanah Round Apple-Date Hallah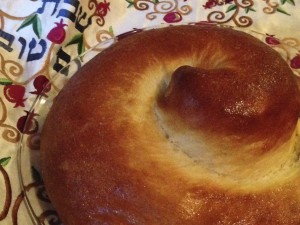 Dough
Dough for one hallah from your favorite recipe
OR
Ingredients for 1 box of Voilà! Hallah Traditional Egg Bread Mix + 1 extra Tbsp. oil (or butter)
Egg wash
1 egg white
1-3 tsp. sugar or honey
Filling
1½ (large)/2 cups/250 g Granny Smith Apples, peeled, cored and cut into small cubes
2 Majhoul dates, diced
⅓ cup sugar
½ tsp. cinnamon, ground
¼ cup walnuts, ground, optional
2 tbsp. sugar
¼ tsp. cinnamon
1 tsp. oil or 1 tsp. flour for board
1 tsp. oil for baking sheet or Parchment paper
Baking sheet
Prepare filling. In a medium bowl, mix the sugar and cinnamon and set aside 1 tsp. to sprinkle on the hallah before baking. Add the cubed apples and diced dates to the rest of the cinnamon sugar and mix to coat. Set aside. Mix nuts, 2 Tbsp. sugar and ¼ tsp. cinnamon in a separate bowl.
Prepare dough. If you would be using your own hallah dough, you would need enough dough for 1 hallah loaf. If using Voilà! Hallah, follow instructions 1 & 2 on back of Mix package, adding 1 extra Tbsp. of oil.
Oil or lightly dust your counter or board with 1 teaspoon oil or 1 teaspoon flour. Shape dough into a ball and place in the center of your board. With a pin, roll the dough into an 18"X14" rectangle.
Transfer apple date mixture to a colander and let drain. Sprinkle nut mixture all over dough, leaving a 1-inch margin. Sprinkle apple and date mixture on top. From the long side, roll the dough into a cylinder. Roll cylinder under your hands, while keeping one hand on top of one end. With the other hand, apply slight pressure as you roll and move this hand from the center of the cylinder to the other end. You will end up with one side tapered. Hold the thicker end with one hand and coil the cylinder around this thicker end and tuck the tapered end under. Transfer onto an oiled or parchment-lined baking sheet.
Prepare egg wash by mixing the egg white with the sugar and brushing it all over the round hallah. Place in a warm, draft free area to rise for 1 hour.
Preheat oven to 350° F. Brush again with egg wash; sprinkle the reserved cinnamon sugar on top and place in the middle rack of the preheated oven. Bake for 40 minutes. Use a toothpick to check for doneness. If a toothpick inserted in the middle comes out clean, the hallah is baked. If not, bake for 5 minutes more and check again. Let cool on a rack. You can bake as a crown hallah by slicing the even cylinder into 9 equal slices and placing cut-side-up in a circle baking pan. Place dates in the freezer for 15 min. so the diced pieces won't stick to each other.