Dulce De Leche Coffee Cake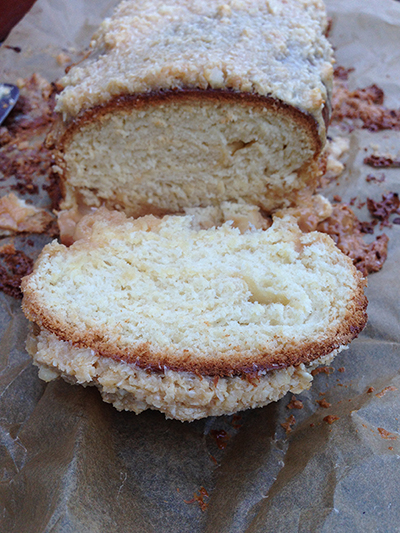 Dough:
1 Box of Traditional Voilà! Hallah, or any of the other mixes; or, use dough from any sweet yeast dough recipe
1 Fast Acting Yeast packet (included)
2 Tbsp sugar, optional
4 tbsp warm milk or water, 110°- 115° F
1 large egg + 1 egg yolk, room temperature
6 tbsp unsalted butter, sliced
Dulce De Leche Filling:
1 can sweetened condensed milk
Streusel:
2 tbsp. dulce de leche
¼ cup coarsly ground macadamia nuts (or your favorite)
2 Tbsp. coconut flakes
Peel the label off the can of condensed milk. Puncture two holes on opposite sides of the top of the can. Place the can in a small pot and fill pot with water to one inch from the top of the can. Place the pot on the stove top cook on medium-high heat. When the water simmer, reduce the heat to keep the simmer. Add water as needed to keep the level at one inch from the top of the can. Cook for about three hours for a soft Dulce De Leche. For a firmer consistency, cook for four hours. Remove the can from the water bath with caution. Use tongs or oven mittens. Place on a rack to cool. Carefully open the can with a can opener and empty the contents of the can into a bowl. The contents will be of different consistencies. Scrape the chunks on the bottom into the bowl and whisk everything together until you achieve a homogeneous Dulce De Leche.
Read instructions and prepare ingredients before starting. Place the mix and yeast in the bowl of a stand mixer, fitted with the hook attachment, and stir. Add water or milk and stir to combine. Add eggs and butter and mix on medium-low for 10 minutes, stopping to scrape down dough from hook and sides of bowl, as needed. Dough will separate from sides of bowl and will be soft and elastic. Scoop dough, shape into a ball, cover with a parchment paper or plastic wrap and place in refrigerator to cool for 10 min. Roll dough into a 14" by 12" and about a ¼ " thick rectangle. Spread the Dulce De Leche, leaving a 1" margin around the parameters. Fold over the 1" margins of the edges of the short sides. Gently roll the long side away from you. Pinch the edges to seal and place in an oiled or parchment-lined bread pan. Let rise for 30 minutes in a warm, draft-free area. Preheat oven to 350° F. Bake on the oven's middle rack for 40 min.
Mix the streusel ingredients in a small bowl. Add a tablespoon of water to thin it out. You may need a bit more water. Make sure it is not runny. Remove the cake from the oven after 40 minutes of baking, spread the streusel on the top and return to the oven for another 5-10 minutes.
Remove from the oven and place on a wire rack to cool. Let cool a bit before serving..