Voilà! Jelly Doughnuts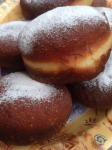 Cuisine:
Eastern European, Jewish
Dough:
1 Box of Traditional Voilà! Hallah Egg Bread Mix
1 Fast Acting Yeast Packet (included)
2 Tbsp. sugar, optional
½ cup warm water or milk
1 Tbsp. Rum or Cognac
4 Tbsp. sunflower or safflower oil or soften unsalted butter, sliced
½ tsp. lemon peel
1 large egg + 1 yolk from a large egg, at room temp.
filling:
8-10 Tbsp. jelly of your choice
2 Tbsp. powdered sugar for dusting, or to taste
oil or flour for board
Deep pot for frying, 9"
2 Qt/2 Liter Safflower/Sunflower oil for frying (will yield 2" of oil in a 9" pot)
Read instructions and prepare ingredients before starting.
Place the mix in the bowl of a stand mixer, create a well in the middle, add the yeast, sugar and water or milk and proof for up to 10 min. until frothy on top. Add the eggs, oil or butter, rum and lemon peel and stir with the hook attachment to combine. Continue to mix on medium-low speed for 9 more minutes, stopping to scrape down dough from hook and sides of the bowl, as needed. The dough will be soft and sticky, but will handle well with oiled hands.
Oil or dust your board with flour and scoop the dough onto it. Divide the dough into 8 (74 g) or 10 (60 g) pieces. Place each piece on the board, cup it with the palm of your hand and roll into a ball. Let rest for 10 minutes, shape the balls again and move them one by one onto a parchment lined baking sheet with a 2-inch space between them. Carefully, brush the balls with oil all over. Let rise in a warm, draft-free place for 45 - 60 min., until doubled in bulk.
Heat oil in a deep pot to 360° F/182° C. With an oiled spatula, lift one ball at a time and place carefully in the hot oil. Fry four to five doughnuts at a time, depending on the size of the doughnut. Fry for about 2-3 minutes on each side.
Scoop the fried doughnut with a slotted spoon and drain on a paper towel.
When cool enough to handle, either inject the jelly with a syringe or make a slit on the side of the doughnut and stuff with a tablespoon of jelly or your favorite filling. Sprinkle with powdered sugar and serve.
You may cool the doughnuts and freeze. Defrost on the counter and warm up in a 350° F oven for 10-12 min.
Enjoy!