Khafush, Yemenite or Yemeni Bread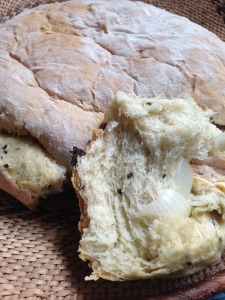 4 cups (500 g) sifted all-purpose flour
3 Tbsp. (28-30g) active dry yeast
1 Tbsp. sugar
2 tsp (10 g) salt
1-½ cup warm water (110° - 115° F)
1 Tbsp. nigella sativa seeds
½ small onion, chopped
4 Tbsp. all purpose flour
Scoop four cups of flour and sift, measure four cups of sifted flour by spooning onto a measuring cup and leveling with a knife or spatula. Place flour in a bowl of a stand mixer, create a well in the center, pour sugar and mix a bit with the flour, pour the yeast and one half cup of the warm water and let stand for 5 minutes to activate.
Add salt and oil and mix on low with the hook attachment, adding another one cup of water gradually. Mix for 10 minutes. Add the seeds after 8 minutes of mixing. You should see strands of dough stretching from the sides of the bowl to the hook attachment while mixing, leaving a smear of dough on the sides of the bowl. If the dough is dry, add water by the teaspoon, as necessary. The dough should be soft, a bit sticky, but should easily separate from your fingers. With wet hands, lift the dough, tuck the edges under and gather it into a smooth ball and place back in the bowl. With wet hands pat and smooth the dough, place in a warm, draft free area and let rise until doubled in bulk, about 45 minutes.
Wet your hand and deflate the dough by working it into a smooth ball while in the bowl. Pat with water, cover and let it rest until doubled in bulk, about 20 min.
Flour about a ten-inch diameter of your board with two tablespoons flour. Sprinkle two tablespoons of flour on the bottom of a cast iron pot. With wet hands lift the dough out of the bowl, tuck edges under, place the ball face down on the board and flatten with the palms of your hands. Sprinkle half the chopped onion on top of the dough, and lift and bring the edges to center and over the onion. Sprinkle the rest of the onion on the bottom of the pot. For a soft crust, place the dough smooth side up in the pot, place the in the cold oven, turn the temperature dial to 350°/180° and bake for 50 - 60 minutes. For a crunchy crust, preheat the oven to 500° F/260° C, bake for 10 minutes, reduce the temperature to 350° F/180° C and continue to bake for another 30 minutes. Let cool on a rack for about 10 minutes and release carefully from the pot. Continue to cool on a rack. Enjoy!
Recipe by
Tribes-A-Dozen | Traditional Hallah Egg Bread Mixes | All Natural
at https://tribesadozen.com/khafush-yemenite-or-yemeni-bread/