Most people associate 'Seder' with Passover.  I grew up with a Rosh Hashana Seder, as is the custom amongst various communities of Spharadi Jews. It was a fare of seasonal food, simply boiled and delicious.  Boiling pumpkin in salty water enhances it's flavor, yet respects the gourd's essence, and without the excess calories.  A straightforward preparation defying convention about, or redefining, what is 'gourmet' food.  Roasting it with a bit of butter and a sprinkle of sugar and cinnamon (no smothering, though), turns it into a whole different animal!  But does that elevate it into a 'Gourmet' food?   For my Rosh Hashana Seder, this individual seder plate: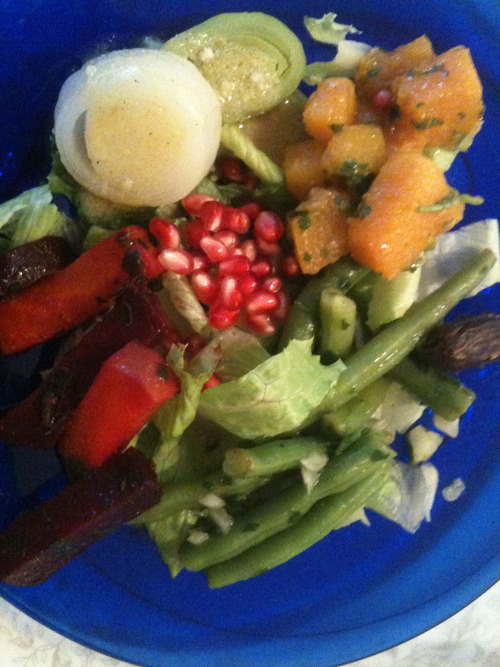 started with these raw ingredients: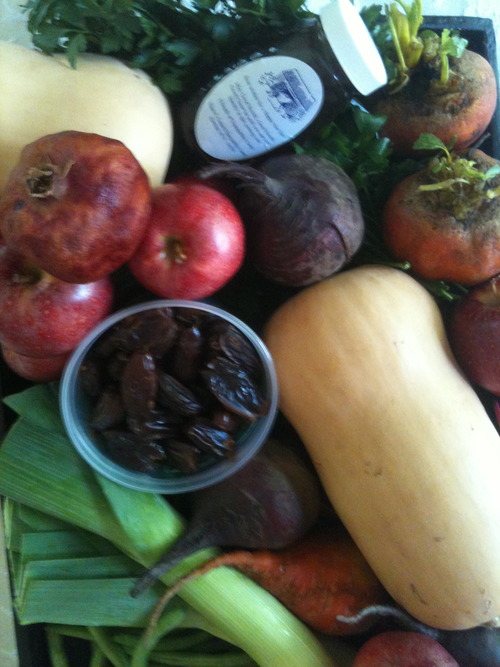 Aside from apple and honey, the Rosh Hashana table showcased a spread of the season's bounty—pomegranate seed, date, pumpkin, green bean, beet, leek, and quince.  Each food had a blessing and a wish for the new year that resonates with it's name.  While the leek was served fresh and raw, my mother boiled the other vegetables and the quince.  A head of fish or lamb was also served as a wish for leadership.
While I maintain the tradition of serving and blessing these ceremonial foods at Rosh Hashana dinner, my preparation results in flavors and textures unlike those of my childhood.  The green beans, beets, and leeks are served Morrocan style with a bite. Al dente, both are dressed with chopped parsley, olive oil, lemon juice, and salt. The green beans are paired with white pepper while the beets are spiced with cumin.  Thick slices of steamed leek are dressed with lemon-garlic mustard sauce. My favorite fall salad and my own concoction, the butternut squash is dressed with olive oil, honey and pomegranate molasses, a handful of pomegranate seeds, and a generous sprinkle of chopped cilantro.  A visual celebration of joyous autumn colors.  A feast for the senses!
To spare the squeamish amongst my guests, I am transitioning from fish head to a head of lettuce
Inspire and be inspired.