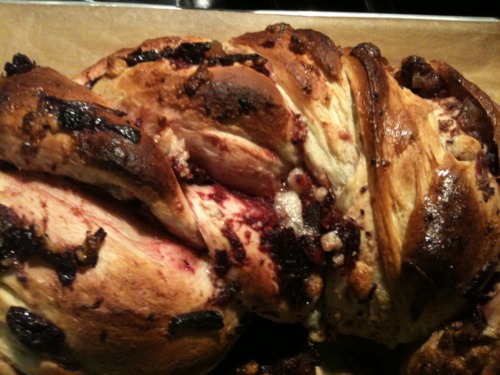 I am a traditionalist!  I wouldn't say this to the rebellious teen that I once was.  She would never have fathomed seeing herself as a traditionalist, let alone admitting such a blasphemy in public.  So here it is:  I love traditions. Except, for me, tradition is a fluid concept.  I preserve and celebrate tradition, I adopt and adapt tradition, and, most of all, I mix traditions.  Thanksgiving is one example of a tradition I had made mine over the years.  This Hallah reflect this sentiment.
When I moved to the U.S. more than a quarter of a century ago, I embraced everything about this holiday. I loved the gathering of family and friends of all denominations to feast on good food around a festive table. The traditional Fall menu I readily adopted evolved with me over the years. In this span of time, some of the initial recipes were tweaked, but essentially stayed the same; some were dropped, while others were added along the way.  This year's newbie —the Cranberry Hallah Bread, is a marriage of two traditions.
Yesterday afternoon I made three batches of my Hallah recipe.  I used one third to make the Cranberry Hallah Bread.  The other two thirds were made into small Hallah rolls —dunkers— for the pumpkin soup.
Cranberry Hallah Bread
I strteched the dough with my hands over the board, like with pizza dough. I then sprinkled with crystallized ginger, bits of homemade marzipan, and spread homemade cranberry orange preserve.  I folded the edges over, rolled the dough, and cut it lengthwise into two strands, keeping them attached at the top.  I then twisted the two strands, transferred onto a parchment-lined baking sheet, brushed with egg wash and sprinkled a bit of sugar on top.  After the second rise, I baked it in a 350 degree F for about 30 min.
See Tips Below.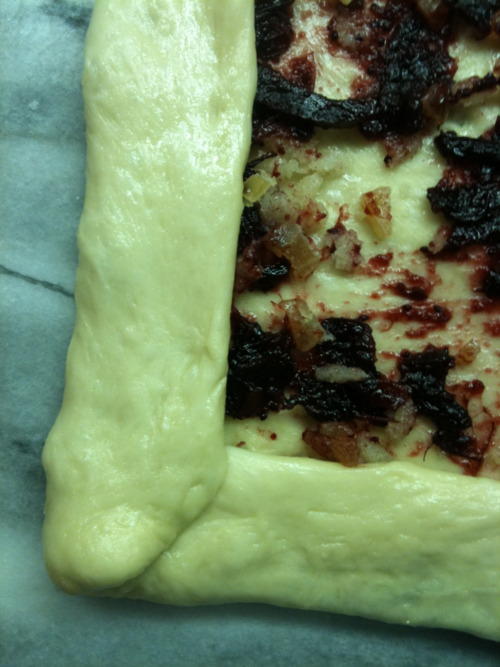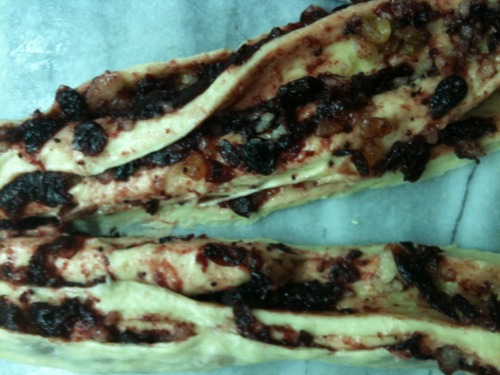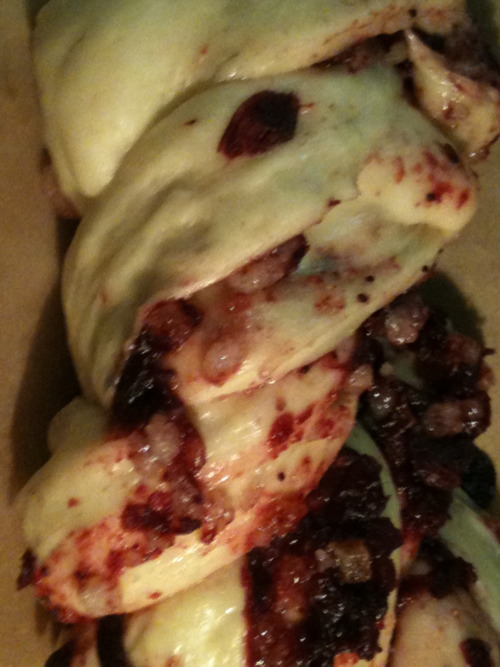 Tips:
* I can see adding some shredded coconut or morsels of dark chocolate, or both.  I can also see using it in my favorite bread pudding dish for a fall brunch. Instead of the sauce I regularly use, I can see making an orange flavored cream sauce to pour top of the pudding.  This is for another time.  For now, I can see having it with green tea.
* Be creative with the ingredients for the filling.  I can see spreading orange marmalade, sprinkling some candied or fresh cranberries, and some slivered or ground almonds, or any other nut.
*  This is a non-dairy recipe.  You could substitute butter for the oil in the dough.  You could also spread some butter on the dough and than add the other filling ingredients.
* You can use any Hallah recipe.  Keep the dough on the sticky side, though.  You may need to add a tablespoon or two to the recipe.  The outcome would be softer.  Don't worry about a bit of stickiness.  You have got to approach this dough with confidence.  Oiling your hands would help you manage the task.  I also oil my marble board rather than use four for dusting.
Hallah mini rolls — dunkers:
I simply rolled 1 oz. balls into 5"-6" strands, applied egg wash and a sprinkle of coarse Kosher salt and the pungent black seeds (Nigella Sativa), also called black cumin, which it is not.  I ended up with about 40 dunkers.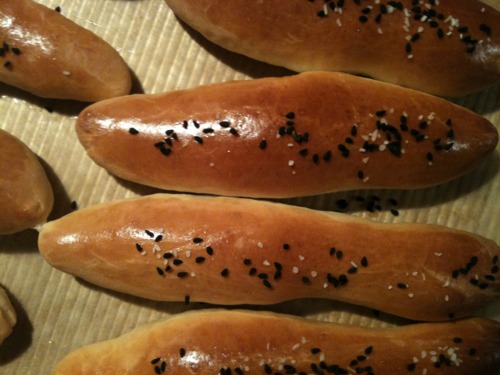 Enjoy and Happy Thanksgiving!
Inspire and Be Inspired!